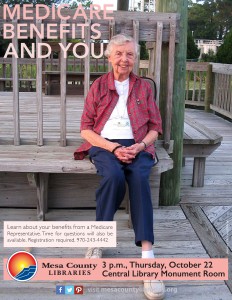 Are you curious about what kind of Medicare benefits you might qualify for?
or
Are you interested in learning how to apply for Medicare?
If you answered yes to those questions or if you would like to learn more about Medicare remember to come to an informational program on Thursday, October 22 at 3:00 pm in the Central Library community room. A Medicare employee will be speaking about benefits and will be available to answer questions after the presentation.
Register for the program at this link or call 970-243-4442.