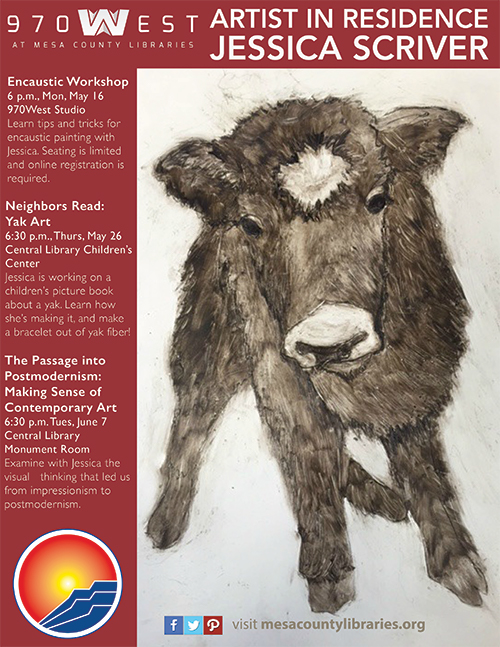 Jessica Scriver, the first Mesa County Libraries 970West Studio Artist in Residence, is scheduled to teach an art workshop and host two presentations about her work in May and June. She also plans to host the public for open studio hours on Mondays from May 9 to June 6.
Scriver, an artist who is creating encaustic paintings to illustrate a children's book about a baby yak, will teach a workshop about encaustic painting at 6 p.m. Monday, May 16, in the 970West Studio at the Central Library in Grand Junction. The encaustic painting technique involves painting hot wax into a surface and manipulating it with tools and paint. Space is limited, and registration is required by calling 970-243-4442 or via the online Events Calendar at mesacountylibraries.org. Supplies are included, and there is no charge to attend.
Scriver will present "Yak Art" as part of a Neighbors Read children's event at 6:30 p.m. Thursday, May 26, at the Central Library. Children and their families will learn about the encaustic painting techniques she is using to create a children's book about a yak. Children will get to make a bracelet from real yak fiber. The presentation is open to children and their families at no charge.
"The Passage into Postmodernism: Making Sense of Contemporary Art" is a lecture/slideshow about art movements that Scriver will present at 6:30 p.m. Tuesday, June 7, in the Central Library Community Room. "Sometimes looking at art requires a basic understanding of the concepts behind it," Scriver says. "I will present slides and talk about the shifts in visual thinking that have led us from impressionism to postmodernism. The audience will be able to see the lineages of different contemporary art forms." The presentation is open to the public at no charge.
Open Studio Hours: Scriver will host open studio hours on Mondays in May and early June to show the public her work. Open studio hours are scheduled from 10 a.m.-2 p.m. each Monday from May 9 through June 6, except for the Memorial Day holiday on May 30. During studio hours, Scriver will be present in the Artist in Residence space in the 970West Studio, and the public may drop by to view her work. Please note that other areas of the 970West Studio building will be closed during that time.
The Mesa County Libraries 970West Studio Artist in Residence program hosts a different local artist every three months. Artists commit to hosting public events during their residency. Applications for Artist in Residence are accepted annually. For more information, visit http://mesacountylibraries.org/services/970weststudio/air/