Starting this school year, high school juniors will take the SAT in the spring rather than the ACT. If you're wondering what the differences between the two exams are, here is a brief overview:
SAT
ACT

Graded on a scale of 400-1600
Includes reading/writing tests and math tests
Questions frequently require reasoning skills and multiple steps to determine answers

Graded on a scale of 1-36
Includes english/reading, math and science tests
Questions are sometimes described as more straightforward than those on the SAT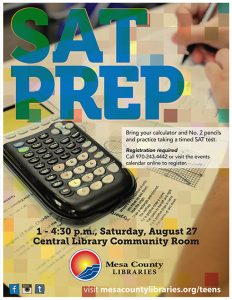 Both tests:
Are accepted by colleges and universities across the United States, but the SAT may be accepted more widely
Do not give a penalty for guessing the answer
Can be taken multiple times per year
You can register online now for an SAT practice test at the Central Library on Saturday, August 27th at 1pm. This test is free of charge and will be self-graded – no one else will see the results, and it will offer a great starting place to figure out what you need to study to be ready for the actual test. The practice test will also simulate what taking the SAT will be like, so you can get used to the experience and feel more confident when the actual test rolls around. If you are not planning to take the SAT at school in the spring but you still want to take the test on your own, you can register online and find out more information on College Board, the office website of the SAT.
If you're planning on taking the ACT, you can also register online for a practice test at the Central Library on Saturday, September 17th at 1pm. Since the ACT will no longer be offered for free to high school juniors, you can register to take the test and find out more information on the ACT's website.
Helpful Test Prep Resources
Aside from the opportunity to take practice tests in person, Mesa County Libraries offers a number of resources to help you study for the SAT or ACT.
College Admission Test Resources – an up-to-date list of books and other resources the library owns on the SAT, ACT, and AP subject tests.
Lynda – The course "SAT Prep: Getting Started" offers in-depth information, practice tests, and a wide range of study materials, while the course Test Prep: ACT has some great basic information and study tips. Lynda is free to access from anywhere with your library card number.
Learning Express – The College Preparation Center has an online course on the ACT, SAT, AP exams, and more. Learning Express is also free to access from anywhere with your library card number.
Best of luck with your college admission tests – if you have any other questions or comments, please be sure to contact us so we can help!