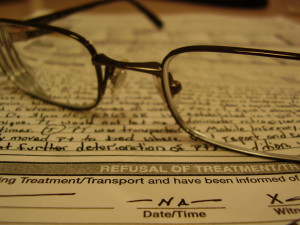 Thanks to our presenters, facilitator, and participants One Book, One Mesa County 2015 had a strong start Thursday night with "Understanding the Family You Have." Introductions and conversation addressed our culture in which we often find discussing aging and death difficult. Though single children have the burden of facing it alone, sometimes carrying out decisions is easier for them. Siblings can provide support for one another, but when siblings disagree the process of decision making becomes more difficult. In either of these cases, prepared Advanced Directives and honest conversations between parents and children are the only way to ensure parents' wishes are followed. The night was a good reminder that conversation takes two. An impressive number of last night's participants have Advanced Directives in place; children need to do their part in reading the papers and learning about their parents' wishes. To help people approach these topics with loved ones, experts will present "We Have to Talk: The Conversations That Surround a Person's Last Years" on Thursday, February 12 at 6 p.m.
As the term "Advanced Directives" was used, one participant asked the question, "What does that actually mean?" Advanced Directives help loved ones know what kind of care you want and include the Medical Durable Power of Attorney form which gives a person legal power over your medical care and a DNR (Do Not Resuscitate) form if that is a wish, and a living will which covers treatment a person wants when dying or permanently unconscious.
Martha, a member of the Advance Care Planning Taskforce, was at the program and shared a link to an Advanced Directives document, "Your Right to Make Healthcare Decisions." The library also offers legal forms through its website.
As one goes through life processes with parents, with or without siblings, it is important to remember that each person can only do his or her best. It is hard not to carry guilt for what could have been done differently, but guilt is not healthy nor productive. Talking with loved ones is the best way we can equip ourselves to make the best decisions in difficult times.