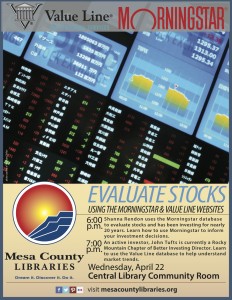 Did you know that your Mesa County library card gives you access to help you invest your money without even having to leave your home? The library has two online resources for investment information that are available 24/7 and are constantly being updated: Morningstar and Value Line.
If you're new to investing, or have dabbled a bit and are interested in learning more, we have two local experts coming to the library on Wednesday, April 22nd to share their experience with these resources.  At 6 p.m. Shanna Rendon, who has been investing for nearly 20 years, will discuss how she uses Morningstar to evaluate stocks.  Morningstar gives access to comprehensive data and independent analysis on thousands of investments spanning mutual funds, stocks, exchange-traded funds and closed-end funds, or data on a particular industry.
At 7 p.m. John Tufts, currently a Rocky Mountain Chapter of Better Investing Director, will explain how he uses Value Line to help understand market trends.  Value Line includes leading publications covering stocks, mutual funds, options, convertible securities, as well as special situation stocks. Value Line also offers a concise format; one-page reports. Please join us for either, or both, of these programs designed to help you feel more comfortable using our library's investment resources.
To access Morningstar or Value Line:
(At some point you will be asked to enter your library card number. Please include the entire number starting with the "4" and do not add any spaces.)
Go to mesacountylibraries.org
Click on Do It–Access our eResources.
Scroll down and click on Research and Learning A-Z.
For Morningstar, click on K-M and scroll until you see Morningstar.
Click on Morningstar.
For Value Line, click on U-Z and scroll until you see Value Line.
Click on Value Line.