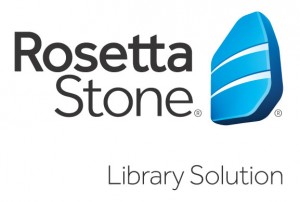 We're so excited to add Rosetta Stone to our list of eResources!  Whether you're looking to learn a brand new language, further your ESL learning as a non-native English speaker, or brush up on a language for business or vacation travel, Rosetta Stone Library Solution is the perfect tool.
This vital resource includes 30 languages to meet a range of cultural interests. Learning is structured around core lessons to build reading, writing, speaking, and listening skills and also includes focused activities to refine grammar, vocabulary, pronunciation, and more.   Rosetta offers a proven immersion method that more than 22,000 schools and 12,000 businesses have trusted for over 20+ years. The award-winning interactive approach has been used by millions of learners around the world and now is accessible from your library!  A mobile app is also available for iOS and Android.
To access and see more in-depth instructions, please visit eResources from our main website navigation, and go to Rosetta Stone.
Happy Learning!
(Please note, if you've been using Mango, we are discontinuing that service after June, 2015.)