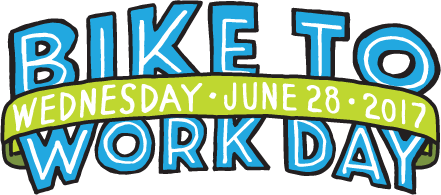 You might see more bicyclists on local roads than usual on Wednesday, June 28, as Mesa County celebrates Bike to Work Day.
Hundreds of local workers – including many staff of Mesa County Libraries – will be riding bicycles to work and back home tomorrow.
Bike to Work Day is part of Bike Month in Colorado, a statewide effort to promote cycling for transportation, recreation, and health. Locally, people who bike to work on June 28 are invited to take part in free community breakfasts at Grand Junction City Hall, 250 N. 5th St.; the Fruita Community Center, 324 N. Coulson St.; and Octopus Coffee, 759 Horizon Drive, Suite F.
Edgewater Brewery, 905 Struthers Ave., and Kannah Creek Brewing Company West Fruita, 456 Kokopelli Drive, will host afterglow events from 6-8 p.m. Commuter Challenge prizes will be awarded at Edgewater Brewery.
It isn't too late to join in the fun! To be part of Bike to Work Day, all you need to do is ride your bike to work!
Mesa County Libraries have many events coming up to celebrate Bike Month (and bicycling in general!):
Children 17 and younger who ride a bicycle to any Mesa County Libraries location five times during June will receive one free admission to a swimming pool in Fruita, Grand Junction, or Palisade.
"Bike Fun in Your World" is a kids' event that encourages healthy lifestyles by riding bikes, along with learning some bicycle safety. As a bonus, learn some basic bicycle maintenance tips, such as flat-tire repair. Bike Fun is scheduled for the following times and locations: 2 p.m. Wednesday, June 28, at the Fruita Branch Kids' Club; 10 a.m. Friday, June 30, at the Orchard Mesa Branch children's Story Time; and 2 p.m. Wednesday, Aug. 9, at the Central Library Kids' Club.
"Genre de Vie," a stylish documentary about bicycles that explores how urban life is improved by the simplicity of the bicycle, will be shown at 6:30 p.m. Thursday, June 29, at the Central Library in downtown Grand Junction. The film screening is open to the public at no charge. The film contains mild language.