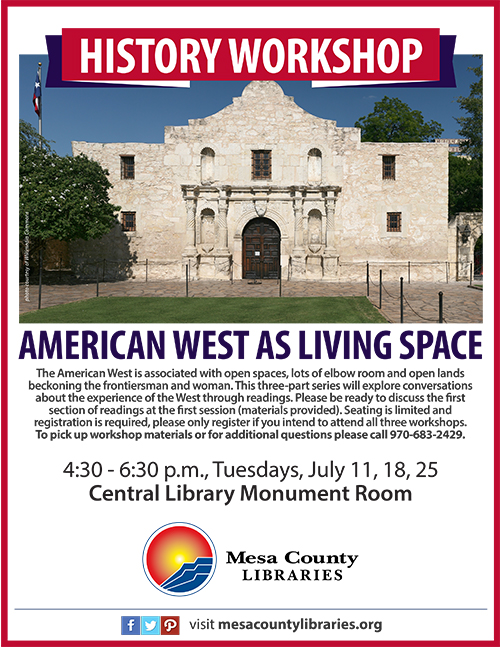 "American West as Living Space," a three-part series of workshops July 11-25 in Grand Junction, will explore the West through a series of readings and discussions with history and English professors from Colorado Mesa University.
The American West is associated with wide-open spaces, lots of elbow room, and open lands beckoning adventurous men and women. This three-part workshop series will explore the experience of the West through readings from Pulitzer Prize finalists and winners in four areas of journalism and the humanities. The focus will be on works of fiction, nonfiction, poetry, and journalism, with expert facilitators at each session.
The workshops are scheduled from 4:30-6:30 p.m. Tuesdays, July 11, 18, and 25 at the Mesa County Libraries Central Library, 443 N. 6th St. in Grand Junction. Participants are asked to attend all three sessions.
The first session will look at nonfiction selections and will be facilitated by Steve Schulte, a professor of history at CMU. The second session, focusing on poetry and journalism, will be facilitated by Dr. Robin Calland, associate professor of English at CMU. The third session will explore fiction and will be facilitated by Maureen Neal, a recently retired professor of English at CMU.
The workshops are open to adults at no charge. Space is limited, and registration is required online via the Events Calendar or by calling the library at 970-243-4442. Those who register will be contacted about picking up workshop reading materials. All materials must be returned at the third session.
For more information, visit the Event Calendar listing or call 970-683-2429.