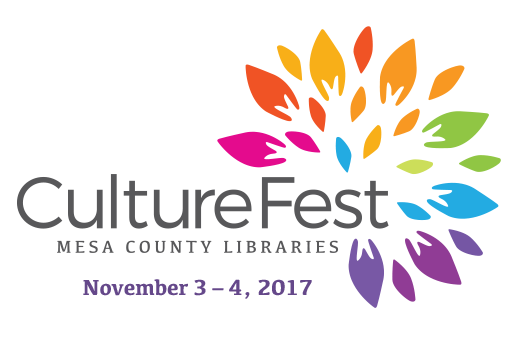 Culture Fest, a celebration of diversity, art, and entertainment, happens Friday and Saturday, Nov. 3 and 4, 2017, at the Mesa County Libraries Central Library, 443 N. 6th St. in Grand Junction.
Culture Fest recognizes and celebrates the diversity of Mesa County residents. The event includes an art reception and a festival that encompasses many cultures of western Colorado.
All Culture Fest events are open to the public at no charge.
ART RECEPTION
An Opening Reception for the 2017 Culture Fest Art Show is scheduled from 6-8 p.m. Friday, Nov. 3, at the Central Library.
Javier de los Santos will perform classical guitar from 6-7 p.m., and Melody Brooke Safken, the 970West Studio Artist in Residence, will give an art demonstration from 6-7 p.m.
At 7 p.m., the show's juror, Rebecca Dierickx, will discuss the artwork selected for the show, and awards will be presented.
The Culture Fest Art Show will be on display in the gallery corridor at the Central Library from Oct. 27, 2017, through Jan. 4, 2018.
CULTURE FEST CELEBRATION
The main Culture Fest celebration will take place from 11 a.m. to 3 p.m. Saturday, Nov. 4, at the Central Library.
Tables representing more than 15 countries throughout the world will be set up throughout the library, and they will be staffed by local residents who are either from those countries or who have deep roots there. Among the countries represented will be Norway, Germany, China, Native America, Italy, Madagascar, Japan, The Congo, Mexico, Honduras, Guatemala, Chile, El Salvador, Uganda, Peru, Nepal, and Russia. Some tables may offer tastings of native foods.
A variety of entertainment is scheduled throughout Saturday in the Central Library Community Rooms, including:
Synthesis Irish Dance at 11:05 a.m.
Colombia Viva at 11:45 a.m.
Nine Province Kung Fu at 12:25 p.m.
Khubsurat Ruh Middle Eastern Dance Troupe at 1:05 p.m.
CMU Ho'olokahi Polynesian Alliance at 1:45 p.m.
La Danza Azteca at 2:25 p.m.
CULTURE FEST FOR KIDS AND TEENS
Kids and teens can get ready for Culture Fest with several culturally oriented events during event week. Those events include:
Kids Club: Create Musical Instruments for Culture Fest. 2-4 p.m. Wednesday, Nov. 1, at the Central Library. Kids will make tambourines, shakers, and drums out of everyday items.
Teen Taste Test. 3-5 p.m. Wednesday, Nov. 1, at the Central Library. Do you ever wonder what snacks teens from other cultures enjoy? Find out during the Teen Taste event. You can sample a variety of snacks from around the world. A filming booth will be provided for those who want to capture their snack reviews on video.
Spanish-language Story Time. 6:30 p.m. Wednesday, Nov. 1, at the Central Library. Children and their families can enjoy a music party, and kids can make their own musical instruments.
Neighbors Read: Dance with Miss Melissa. 6:30 p.m. Thursday, Nov. 2, at the Central Library. Get ready for Culture Fest with Mexican and Colombian dances with Miss Melissa!
Culture Fest Story Time: Candy World. 10 a.m. Saturday, Nov. 4, at the Central Library. All kids around the world love music and candy. Kids can bring their own musical instruments that they made earlier in the week at Kids Club. After story time, kids and their families can sample different candies from around the world.