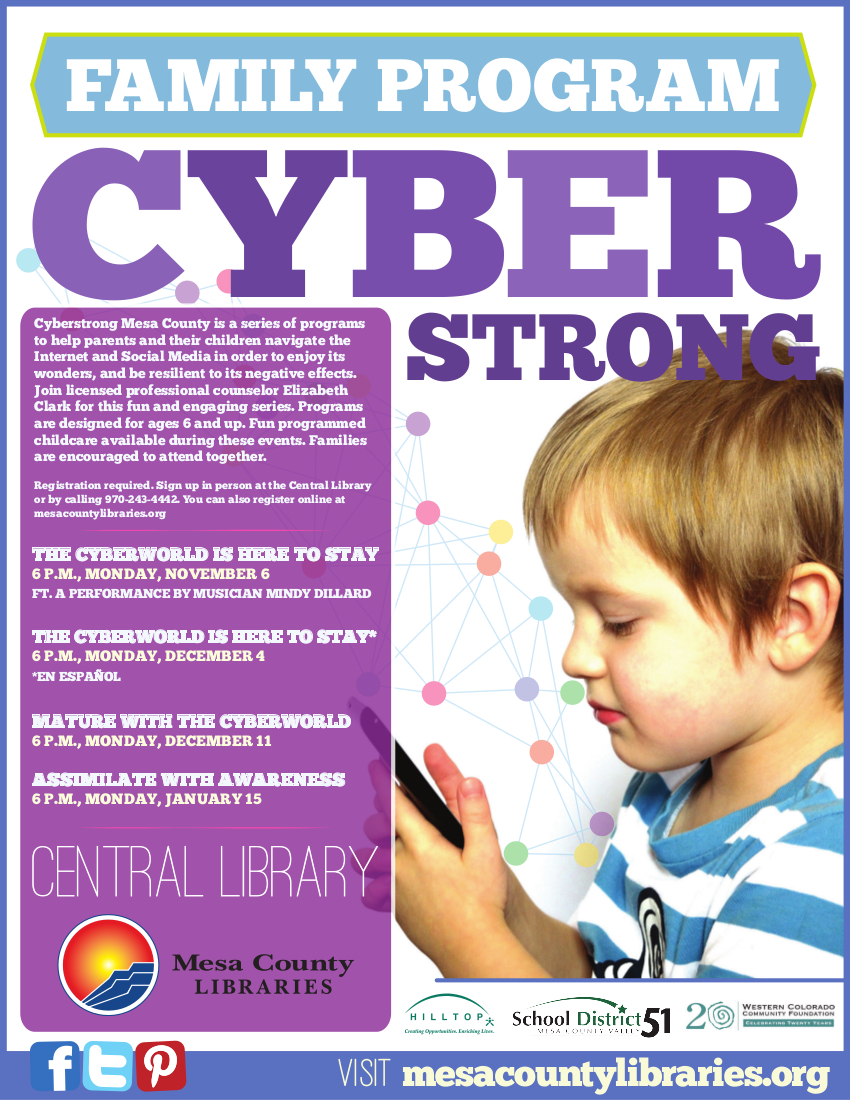 CyberStrong Mesa County, a series of programs to help families enjoy the Internet and social media while being resilient to their negative effects, will happen from 6-7:30 p.m. on four Mondays beginning Nov. 6, 2017, at the Mesa County Libraries Central Library, 443 N. 6th St. in Grand Junction.
The sessions are:
6-7:30 p.m. Monday, Nov. 6: "The Cyberworld Is Here to Stay."
6-7:30 p.m. Monday, Dec. 4: "The Cyberworld Is Here to Stay" presented in Spanish.
6-7:30 p.m. Monday, Dec. 11: "Mature with the Cyberworld."
6-7:30 p.m. Monday, Jan. 15, 2018: "Assimilate with Awareness."
Sessions will be led by Elizabeth Clark, a licensed professional counselor in Grand Junction. Clark will present simple solutions to incorporate positive cognitive, social, and emotional development for children who are becoming consumers of the cyber world.
The sessions have a unique format intended to maximize benefits for adults and children alike. While Clark leads sessions for adults, children 6 years of age and older will attend a separate program hosted by Mesa County Libraries Youth Services, with assistance from licensed child care providers. The children will participate in fun and lively activities and be reunited with their parents or caregivers at the end of the program.
Mindy Dillard, a talented musician who specializes in music for kids and families, will entertain children during the CyberStrong program Nov. 6 in the Central Library Children's Area. During the Spanish-language presentation on Dec. 4, library staff will teach songs to kids in Spanish.
CyberStrong Mesa County is open to all families at no charge.
Space is limited, and registration is encouraged. Please register via the online Events Calendar or by calling 970-243-4442.
CyberStrong Mesa County is co-sponsored by Mesa County Libraries, Hilltop Community Resources, Mesa County Valley School District 51, and the Western Colorado Community Foundation.