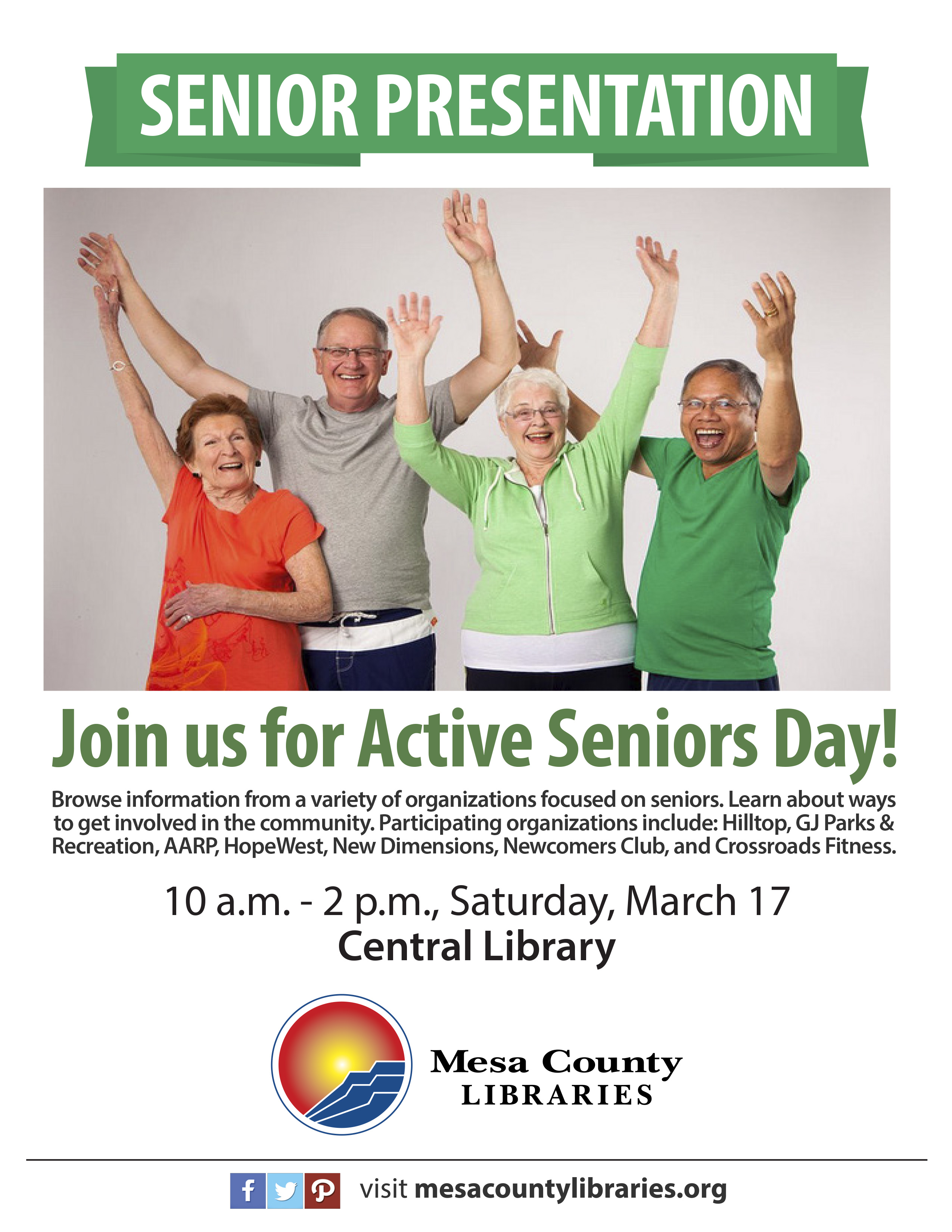 If you're a senior — or know someone who is — you'll want to stop by the Central Library this Saturday for Active Seniors Day!
Active Seniors Day, which happens from 10 a.m. to 2 p.m. Saturday, March 17, gives seniors a chance to learn more about their community. It takes place at the Mesa County Libraries Central Library in downtown Grand Junction, 443 N. 6th St.
The public is welcome to browse information from a variety of local organizations focused on seniors, listen to short presentations, and learn about ways they can get involved in the community.
Active Seniors Day is open to the public at no charge. We look forward to seeing you there!
Scheduled topics and presentations are:
10 a.m. – Words on Wheels (Mesa County Libraries)
10:15 a.m. – New Dimensions
10:35 a.m. – Dementia and its impact on families (Hilltop)
10:55 a.m. – Activities Catalog from Grand Junction Parks and Recreation
11:15 a.m. – RSVP volunteers (RSVP)
11:35 a.m. – AARP Driver Safety (AARP)
11:55 a.m. – The Importance of Socialization to Combat Loneliness, Helplessness, and Boredom (HopeWest)
12:15 p.m. – Foster Grandparents/Senior Companions
12:35 p.m. – Fall Prevention and How Physical Therapy Can Help (Physical Therapy Specialty Center)
12:55 p.m. – Grand Junction Newcomers Club
1:15 p.m. – Silver Sneakers Chair Yoga (Crossroads Fitness)
1:30 p.m. — Keeping Safe with Technology (Center for Independence)