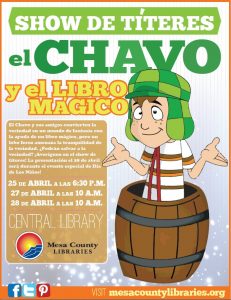 Once upon a time, there was a little boy who lived in a barrel. His name was El Chavo. One day, El Chavo and his friends decided to turn their neighborhood into a world of magic and fantasy. But, a meddling wolf appeared and threatened the peace of their magical world. What will they do? How will they save their neighborhood? Find out on the 25th, 27th, and 28th of April for our special Spanish Puppet Show El Chavo y El Libro Mágico.
Fun Fact
The El Chavo del Ocho theme song is titled The Elephant Never Forgets by Jean-Jacques Perrey, which is actually Beethoven's Turkish March.
---
Había una vez un niño que vivía en un barril. Su nombre era El Chavo. Un día, El Chavo y sus amigos decidieron convertir su vecindario en un mundo de magia y fantasía. Pero apareció un lobo entrometido que amenazó la paz de su mundo mágico. ¿Qué harán ellos? ¿Cómo van a salvar su vecindario? Averigüe los días 25, 27 y 28 de abril para nuestro especial espectáculo de marionetas en español El Chavo y El Libro Mágico.
Dato curioso
La canción de El Chavo del Ocho se titula El Elefante Nunca Olvida por Jean-Jacques Perrey, que en realidad es la Marcha Turca de Beethoven.

For more El Chavo del Ocho, check out these amazing bilingual books! / Para más El Chavo del Ocho, ¡mira estos increíbles libros bilingües!