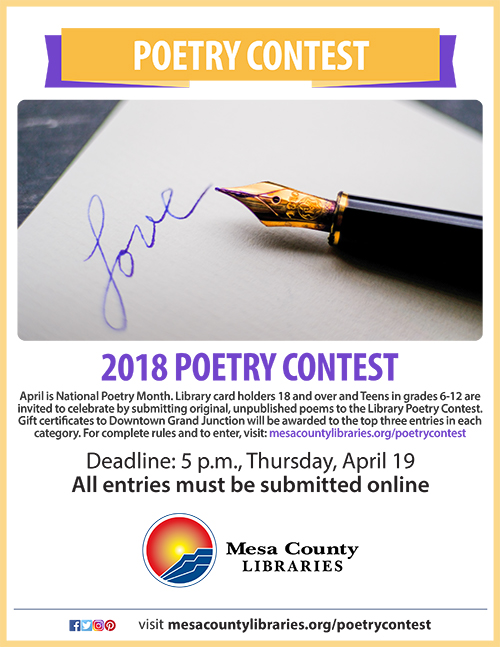 If you're a poet and you know it, enter your best work in the Mesa County Libraries 2018 Poetry Contest!
New to this year's Poetry Contest is a Teen category for poets in grades 6-12. The Adult category welcomes entries by poets 18 and older.
Poets are invited to submit as many as two original, unpublished poems by 5 p.m. Thursday, April 19, for a chance to win prizes and have their poems featured on the library's website. Authors of the top three poems in each category will win Downtown Grand Junction gift certificates.
Entries must be submitted online using the official entry form available at mesacountylibraries.org/poetrycontest . No poems will be accepted in person, in any format, at any library location. Poems cannot exceed 40 lines, and they must be suitable for a general audience. Complete rules are available on the library's website. For more information, call 970-683-2408 or email ctaylor@mcpld.org.
The Teen contest will be judged by Danny Rosen, founder of Lithic Press in Fruita and author of the poetry collections "Primate Poems" and "Ghosts of Giant Kudu."
The Adult contest will be judged by Dr. Randy Phillis, professor of English at Colorado Mesa University and author of the poetry collections "A Man Explains His Posture," "Kismet, Colorado," and "Plots We Can't Keep Up With."