Mesa County Oral History Project
, patrons can now hear episodes of the dramatic Western radio plays
True Epics of Western Colorado
through the
Mesa County Libraries catalog
.
After vaudeville's decline and before television's rise, radio plays were popular entertainment. Serialized shows like The Shadow and Little Orphan Annie inspired legions of devoted fans to sit glued to their speakers during broadcast times. Even those of us who are too young to have lived through that era know about Orson Welles' radio play version of The War of the Worlds and how it caused a small panic, with some listeners actually believing that America was under attack by aliens.
True Epics of Western Colorado, written by Western Colorado historian Wilson Rockwell and based in part on his book of similar name, tell the exploits of outlaw Harry Tracy, the McCarty Gang, cannibal Alferd Packer, and other infamous characters. The plays, which originally aired on KREX radio, provide exciting renditions of Western Slope murders, robberies, and other crimes. They have provocative titles like The Maneater, Death of an Outlaw, and Race for Justice.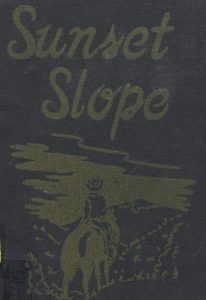 Other radio plays, such as The Ute Indian Legends, The North Fork Hermits, and Escalante's Journey, tell equally compelling if less salacious tales.
All of the stories are told by local radio broadcasters (including Solon Gray, who went on to become a TV news anchor in Miami), with local music that was written and performed by local musicians. So listen to some old-time American entertainment, made right here in Mesa County, and learn something about Western Slope history in the process. And take a look at other offerings in MCL's 970West Digital Collection.

Thanks to the