Niños y padres son bienvenidos para participar en UN día gratis de ZUMBA y una hora de cuentos en español el 29 de agosto a las 6:30 de la tarde en el Community Room de la biblioteca central.
Durante la hora de cuentos en español, y con instructores de ZUMBA de Mesa Fitness, todos podrán disfrutar un dia lleno de diversión, ritmo y libros. Despues podran caminar alrededor de la biblioteca para aprender cosas saludables y ver cosas interesantes en nuestras exhibiciones.
El 3 de julio, la biblioteca de mesa county puso una  exhibición estatal sobre la salud; Discover Health/Descubre la salud. Para promocionar la buena salud en todas las comunidades, la biblioteca a decidido crear programas sobre alimentación, ejercicios, primeros auxilios, entre otras cosas.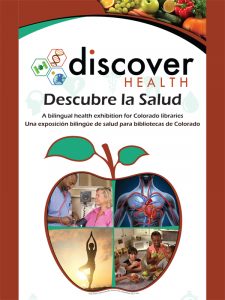 Para ver otros programas sobre la salud, visita nuestro calendario: https://mesacountylibraries.libcal.com/calendar/events/
---
Children and parents are welcome to participate in ONE free day of ZUMBA and one hour of stories in Spanish on August 29 at 6:30 in the afternoon in the Community Room of the Central library.
During story time in Spanish, and with ZUMBA instructors from Mesa Fitness, everyone can enjoy a day full of fun, rhythm and books. Then you can walk around the library to view our health exhibits.
On July 3, Mesa County Libraries began a state exhibit on health: Discover Health / Descubre la Salud. To promote good health in all communities, the library has created programs on food, exercise, first aid, and more.

To see other health programs, visit our calendar: https://mesacountylibraries.libcal.com/calendar/events/