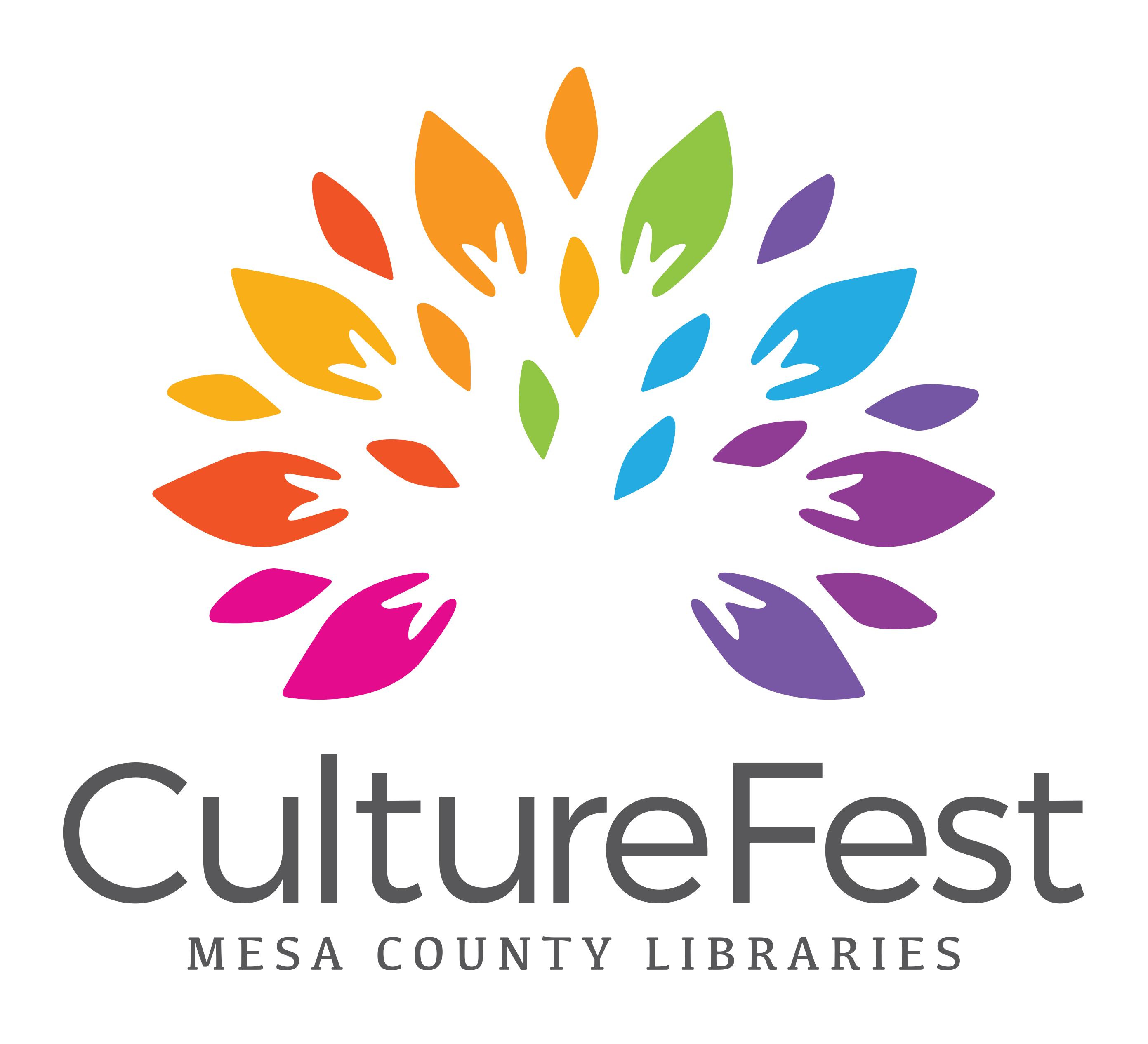 Celebrate the diversity of cultures in western Colorado at the 2018 Mesa County Libraries Culture Fest, a two-day event that happens Friday and Saturday, Nov. 2 and 3, at the Central Library in downtown Grand Junction.
Culture Fest includes an art reception and display, a festival of cultures, and a wide variety of children's activities, all celebrating the many cultures of western Colorado.
All Culture Fest events are open to the public at no charge.
Culture Fest is hosted by Mesa County Libraries and is cosponsored by Friends of the Mesa County Libraries and the Grand Junction Commission on Arts & Culture.
ART RECEPTION
An opening reception for the 2018 Culture Fest Art Show is scheduled from 6:30-7:30 p.m. Friday, Nov. 2, at the Central Library.
Javier de los Santos will perform classical guitar for the reception. The art show's juror, 970West Artist in Residence Pavia Justinian, will speak when awards are presented at 7 p.m.
The Culture Fest Art Show will be on display in the gallery corridor at the Central Library from Oct. 26, 2018, through Jan. 3, 2019.
CULTURE FEST CELEBRATION
Celebrate cultural diversity, learn about different cultures in Mesa County, and enjoy a variety of entertainment at the main Culture Fest celebration, which takes place from 11 a.m. to 3 p.m. Saturday, Nov. 3, throughout the Central Library.
Tables representing more than 15 countries will be set up throughout the library, and they will be staffed by local residents who are either from those countries or who have deep roots there. Among the countries represented will be Germany, Norway, China, Native America, Mexico, Brazil, Italy, Nepal, The Congo, Ukraine, Colombia, Chile, Russia, the United States, and Returned Peace Corps Volunteers (including volunteers from Uganda, El Salvador, and Ethiopia). Some tables may offer tastings of native foods.
A variety of entertainment is scheduled throughout Saturday in the Central Library Community Room, including:
● 11:05 a.m. – Nueva Generacion Folklorico
● 11:45 a.m. – Sultan's Pride Dance Troupe
● 12:25 p.m. – Nine Province Kung Fu
● 1:05 p.m. – Bella Rouge Dance Company with Talking Rhythms
● 1:45 p.m. – Inspired Dance Company
● 2:25 p.m. – Synthesis Irish Dance
CULTURE FEST FOR KIDS
Kids can get ready for Culture Fest with a variety of culturally oriented events leading up to the big celebration. Kids' events include:
● Hora de cuentos: Leyendas Mexicanas
6:30 p.m. Wednesday, Oct. 31, at the Central Library
Listen to popular Mexican folktales and stories, some spooky. Afterward, enjoy some fun activities.
● Neighbors Read: Synthesis Irish Dance
6:30 p.m. Thursday, Nov. 1, at the Central Library
Synthesis Irish Dance will perform traditional Irish dancing at this weekly family story time event.
● Music Story Time: Remember Me, Recuérdame
2 p.m. Friday, Nov. 2, at the Central Library
Sing beautiful Día de los Muertos songs, and celebrate authors who have passed on, leaving their wonderful stories with us.
● Día de los Muertos – Day of the Dead
2-5 p.m. Friday, Nov. 2, at the Central Library
Celebrate life and death with stories, music, and Latin American culture. There will be books, fun activities, snacks, and crafts.
● Story Time and Candy World
10 a.m.-3 p.m. Saturday, Nov. 3, at the Central Library
Taste different candies from around the world and enjoy a special story time at 10 a.m.