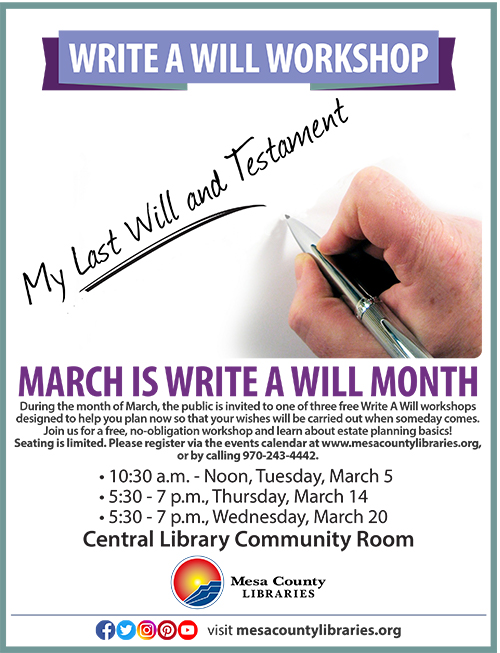 Start preparing for the future by attending a Write-A-Will Workshop during March at the Mesa County Libraries Central Library.
This no-obligation estate-planning workshop is offered free of charge on your choice of three dates:
The workshops are open to interested adults and will take place at the Mesa County Libraries Central Library, 443 N. 6th St. in Grand Junction. Seating is limited, and pre-registration is required by clicking on one of the event dates above or by calling the library at 970-243-4442.
Please register as soon as possible; these workshops have filled quickly in the past.
The workshops will cover the basics of estate planning and will be led by legal and financial experts from the local community. Deb Horwitz from HopeWest will serve as moderator for the workshops. Panelists will be Gregg Kampf of Hoskin, Farina & Kampf; Marsha Harbert of Two Rivers Trust; and Erica Eng of Community Hospital.
Business sponsors of the workshops are: Hoskin, Farina & Kampf; Two Rivers Trust; Third Sector Innovations/Strategic by Nature; MBC Broadcasting; The Beacon Senior News; and The Daily Sentinel.
Nonprofit sponsors are: Mesa County Libraries; Counseling and Education Center; Colorado West Land Trust; Hilltop Community Resources; Homeward Bound; HopeWest; Marillac Health; One Riverfront; Mesa County Partners; St. Mary's Hospital Foundation; Western Colorado Community Foundation; KAFM; and Rocky Mountain PBS.