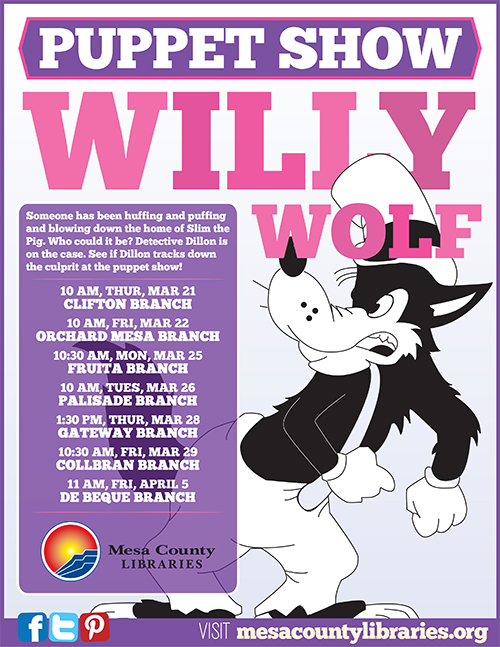 The spring puppet show at Mesa County Libraries' branch locations is "Where is Willy Wolf?"
Someone has been huffing and puffing and blowing down the home of Slim the Pig. Who could it be? Detective Dillon is on the case, and you'll need to watch the puppet show to see if Dillon catches the culprit!
The show – which is open to children and their families at no charge – will be performed at various library locations from March 21 through April 5. Here is the schedule:
10 a.m. Thursday, March 21, at the Clifton Branch, 590 32 Road
10 a.m. Friday, March 22, at the Orchard Mesa Branch, 230 Lynwood Ave.
10:30 a.m. Monday, March 25, at the Fruita Branch, 324 N. Coulson Ave.
10 a.m. Tuesday, March 26, at the Palisade Branch, 119 W. Third St.
1:30 p.m. Thursday, March 28, at the Gateway Branch, 42700 Highway 141
10:30 a.m. Friday, March 29, at the Collbran Branch, 111 Main St.
11 a.m. Friday, April 5, at the De Beque Branch, 730 Minter Ave.