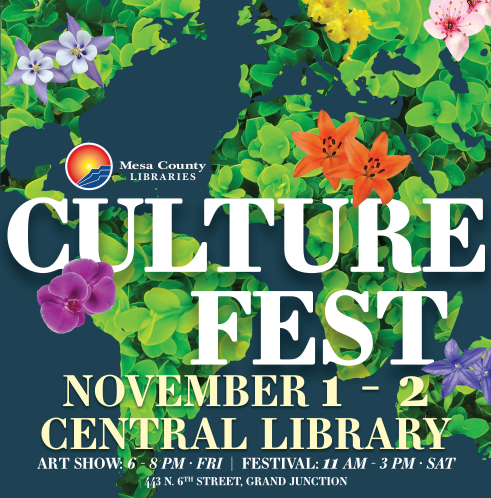 Celebrate the diversity of cultures in western Colorado at the 2019 Mesa County Libraries Culture Fest, a two-day event that happens Friday and Saturday, Nov. 1 and 2, at the Central Library in downtown Grand Junction.
Culture Fest includes an art reception and display, a festival of cultures, and a variety of entertainment, all celebrating the many cultures of western Colorado.
All Culture Fest events are open to the public at no charge.
Culture Fest is hosted by Mesa County Libraries and is cosponsored by Friends of the Mesa County Libraries and the Grand Junction Commission on Arts & Culture.
ART RECEPTION
An opening reception for the 2019 Culture Fest Art Show is scheduled from 6:30-7:30 p.m. Friday, Nov. 1, at the Central Library.
Live music and light refreshments will be available, including samples of Well Read and The Grape Gatsby, wines that benefit the Mesa County Libraries Foundation. The art show's juror, Meghan Bissonnette, assistant professor of art history and art gallery director at Colorado Mesa University, will speak when awards are presented at 7 p.m.
The Culture Fest Art Show will be on display in the east gallery corridor at the Central Library from Oct. 25, 2019, through Jan. 2, 2020.
CULTURE FEST CELEBRATION
Celebrate cultural diversity, learn about different cultures in Mesa County, and enjoy a variety of entertainment at the Culture Fest celebration, which takes place from 11 a.m. to 3 p.m. Saturday, Nov. 2, throughout the Central Library.
Tables representing more than 16 countries will be set up throughout the library, and they will be staffed by local residents who are either from those countries or who have deep roots there. Among the countries represented will be Germany, Norway, Italy, Mexico, Colombia, Peru, El Salvador, Russia, Venezuela, Honduras, Ukraine, Brazil, Nepal, Guatemala, and France. Some tables may offer tastings of native foods.
A variety of entertainment is scheduled throughout Saturday in the Central Library Community Rooms, including:
11:05 a.m. – Nueva Generación Folklórico
11:45 a.m. – Colorado West Celtic Dancers
12:25 p.m. – Sultan's Pride Dance Troupe
1:05 p.m. – Monumental Movement
1:45 p.m. – Dancing Arts Ballet
2:25 p.m. – Nine Province Kung Fu
FOR CHILDREN
Cultural games and activities will be available for children all day Nov. 2 during Culture Fest in the Children's Area of the Central Library.
In addition, kids can get ready for Culture Fest by attending Dia de los Muertos from 6 to 8 p.m. Wednesday, Oct. 30, in the Central Library Children's Area. Special activities, snacks, and music by Mariachi San Jose with special guests Melany and Ruby Munoz will help participants celebrate the life and death of book authors and people important to you and your family.