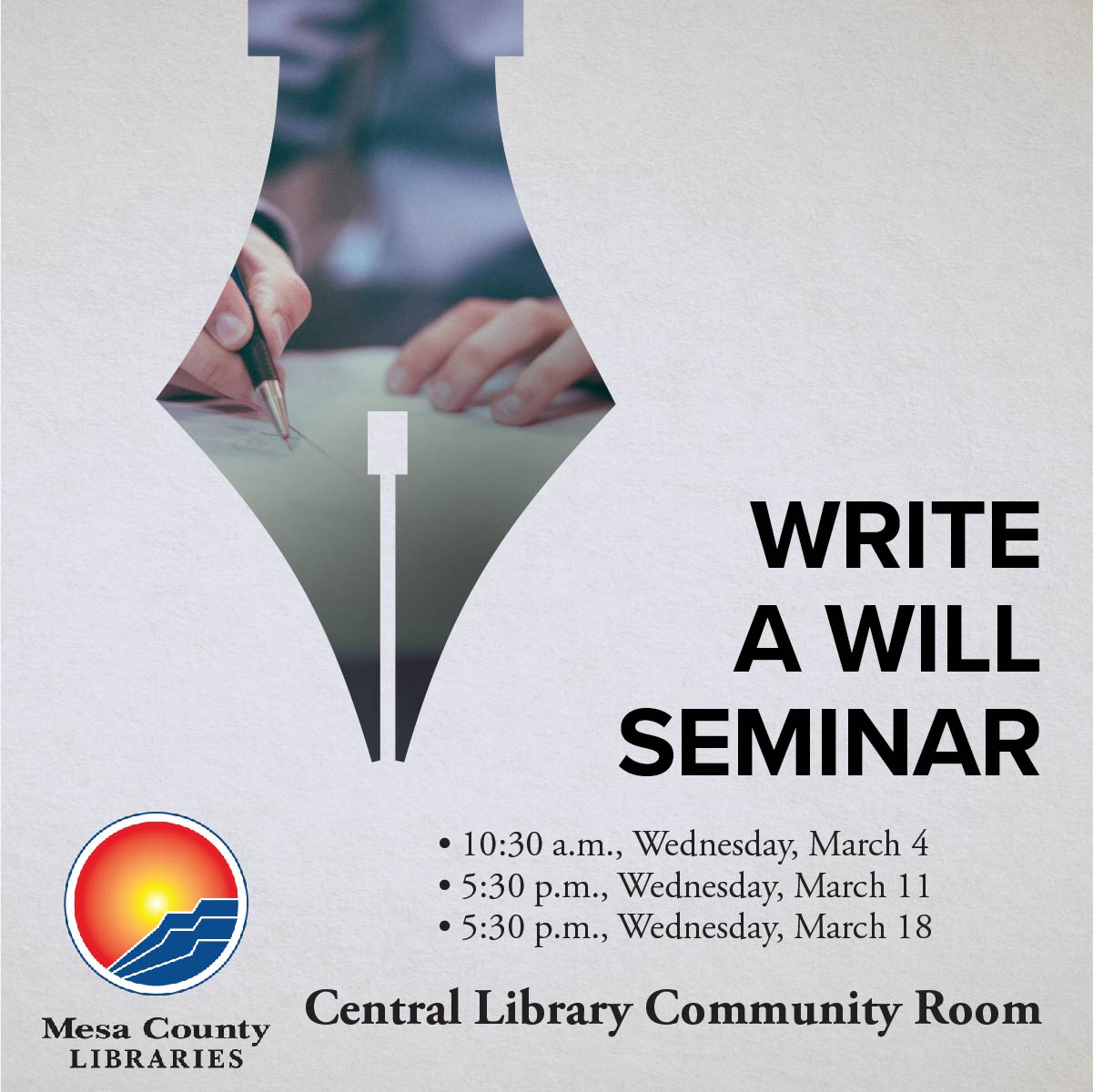 During March, the public is invited to one of three free Write A Will seminars designed to help you plan now so that your wishes will be carried out later. Attend one of these no-obligation seminars and learn about estate-planning basics:
How do you know whether you need a will?
How to avoid problems in your will.
How do you create an estate plan that reflects your personal and charitable wishes?
These seminars, conducted by local estate-planning professionals, take place at the Mesa County Libraries Central Library, 443 N. 6th St., Grand Junction, on the following dates:
All seminars are open to the public at no charge.
Registration is required by clicking an event listed above, visiting the Event Calendar, or by calling 970-243-4442. Space is limited, so please register early.
The seminars are hosted by Mesa County Libraries and the Mesa County Fundraisers Network.
Thanks go to the following sponsors:
Business Sponsors:
Hoskin, Farina & Kampf, P.C.
Two Rivers Trust Co.
Media Sponsors:
MBC Grand Broadcasting
The Beacon Senior News
The Business Times
The Daily Sentinel
Nonprofit Sponsors and Partners:
CEC
Colorado West Land Trust
Family Health West
Hilltop
HomewardBound of the Grand Valley
HopeWest
KAFM Radio
MarillacHealth
Mesa County Libraries Foundation
One Riverfront
Mesa County Partners
Rocky Mountain PBS
Roice Hurst Humane Society
St. Mary's Foundation
Third Sector Innovations and Strategic by Nature
Western Colorado Community Foundation