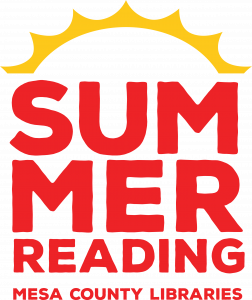 Don't miss the fun! Sign up today for Summer Reading at Mesa County Libraries, and add the excitement of reading and fun family activities to your season.
Summer Reading at Mesa County Libraries is an all-online program this year, but we've spiced it up with real-world scavenger hunts, take-and-make activity kits, and a simplified way to keep track of your reading progress and activity completion. In addition, we have unique performers scheduled all summer long to keep you entertained and inspired.
Summer Reading is open to all ages, and there is no charge to participate! Register online at mesacountylibraries.org or call our Summer Reading hotline at 970-683-2416.
There's a reading program for everyone in the family, with four different age categories: Early Learners (birth-5); Kids (6-11); Teens (12-18); and Adults (19-plus).
This year, the goal for Summer Reading is to earn 1,000 points and while doing so, earn online badges, stickers, weekly prize drawing entries, a book bag, free books, and grand prize drawing entries. Summer Reading lasts through Aug. 1, so sign up now and get started!
Summer Reading participants can earn points for the number of minutes they spend reading. They also can earn points for a variety of other activities, such as attending a virtual library program, achieving a personal reading goal, and discovering something new.  (Mesa County Libraries host programs on the library's Facebook page, and we have many archived library programs for all ages on the library's YouTube channel.
Tracking your reading progress is easy this year! Once you've registered for your online account, you can log in regularly and keep track of your progress. If you don't have online access to track your progress, the library can sign you up and provide you with a paper log to track your reading and other activities.
You do not need a library card to sign up for Summer Reading. However, you will need a library card to check out library materials and use electronic resources, so we encourage you to get a library card so you can access all of the resources the library offers. You can easily get a library card online. There is no charge for a library card!
ENTERTAINMENT
You'll want to catch the magicians, musicians, and storytellers lined up for exclusive performances on Mesa County Libraries' Facebook page this summer! Tune in and help these performers celebrate Summer Reading at Mesa County Libraries!
Here is the schedule: