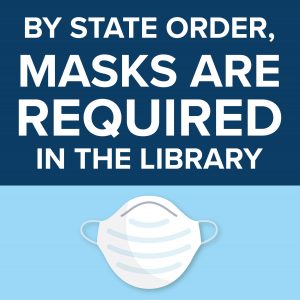 Because of a new statewide order requiring individuals to wear masks while in indoor public spaces, patrons entering any Mesa County Libraries location will be required to wear a mask beginning Friday, July 17, 2020.
Children 10 and younger are exempt from the state order, as are individuals who cannot medically tolerate a face covering.
Gov. Jared Polis announced the mask order Thursday in response to the increasing number of COVID-19 cases occurring in Colorado. His order applies to all public indoor spaces.
We at the library wish to remind our patrons to bring their masks with them when they visit our libraries.
Any patrons who cannot wear a mask or do not wish to wear a mask in the library are invited to use our curbside service, available at all locations, to pick up holds without entering a building. Here is more information about using our curbside service. We also have many virtual services — including ebooks via OverDrive and magazines via rbDigital — available to patrons online.
Finally, we wish to thank our patrons for your cooperation and understanding as we have reopened the libraries. We look forward to continuing to provide service to you under these changing circumstances!