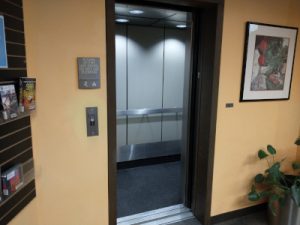 The aging elevator at the Mesa County Libraries Central Library in downtown Grand Junction will close Sept. 17 for replacement.
The replacement project is expected to last approximately eight weeks. When it's over, the 46-year-old elevator will be replaced by a new elevator that will more comfortably accommodate patrons who use wheelchairs and other mobility devices.
"This elevator is past the end of its useful life," said Jennifer Deering, facilities manager for Mesa County Libraries. "It's so small that it is difficult for some patrons to use. The new elevator will be noticeably larger."
A variety of services are offered on the Central Library's lower level, such as public computers, meeting rooms, and the Adult Learning Center. The elevator is essential for some patrons to be able to reach those services. Consequently, the library is developing plans to accommodate those patrons' needs on the main level of the building.
Some public computers will be moved upstairs to the main level, and meeting space will be made available on the main level for patrons who require accessibility. Other services, such as classes and tutoring through the Adult Learning Center, as well as access to the regional history collection, can be arranged for patrons with impaired mobility who contact the library in advance and let staff know their needs.
"We will figure out how to accommodate patrons who have special requests," Deering said.
During construction, the area around the elevator will be closed off with temporary walls to control dust, noise, and access. Every attempt will be made to minimize disruption of library services and disturbance to patrons using the library.
The project is expected to cost about $115,000. The contractor is Grand Junction-based Colorado Custom Elevator and Lift.