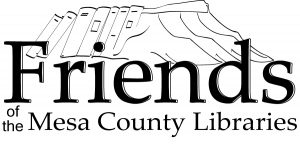 To celebrate National Friends of Libraries Week, the Friends of Mesa County Libraries will host a book sale from 9 a.m.-2 p.m. Friday, Oct. 23, in the book depository at the First Congregational Church, 1425 N. 5th St. (across from Grand Junction High School).
A variety of high-quality used books, ranging from children's books to fiction and more, will be available at amazingly reasonable prices! Cash sales only, please. No cards.
Those who attend are asked to wear masks and practice social distancing. A maximum of 10 people will be allowed in the sale at any given time.
National Friends of Libraries Week, Oct. 18-24, is a time to recognize the vital work that Friends groups do for libraries throughout the country.
Mesa County Libraries are supported by three Friends groups: Friends of Mesa County Libraries, the Palisade Auxiliary, and the Plateau Valley Friends of the Library. The groups raise money through book sales and other fundraising activities to support programming, events, and other needs of the community's public libraries.
The Friends of Mesa County Libraries opened A Novel Idea Bookstore at the Central Library in 2008 to sell quality used books to benefit the library. The library's Friends groups also operate book kiosks and conduct book sales at other library locations in Clifton, Fruita, Orchard Mesa, Palisade, and Collbran.
Proceeds from sales at A Novel Idea have supported many events and projects over the years, including Poetry Night, Summer Reading at Mesa County Libraries, Comic Con, Culture Fest, and the Discovery Garden. Friends of the Mesa County Libraries also gave $100,000 to the Central Library Expansion and Improvement Project in 2013.
Because of the pandemic, A Novel Idea Bookstore is temporarily closed, and the traditional Fall Book Sale won't be held this year. However, pop-up book sales are planned each Friday for the rest of 2020.
In addition, owners of The Novel Cup coffee shop outside the Central Library are having a fundraiser for Friends of Mesa County Libraries during October. They are donating 25% of coffee bean sales during the month to the Friends.
Mesa County Libraries are grateful for the assistance of Friends organizations. Those groups are crucial to the success of many library events and services. We urge library patrons and the Mesa County community to support library Friends groups through book purchases and volunteering. Thanks, Friends!