Community Mural Call for Artists
In 2022, Mesa County Libraries conducted community research and learned that the top priority was "community and belonging". This is now one of the library's three focus areas for its new strategic roadmap. As such, the library wants to feature the Mesa County community in a mural inside the Central Library. It is expected that the mural reflects or includes people in it. The artist will plan and assist in organizing opportunities for community input into the final design.
The selected Mesa County artist(s) will be paid a commission of $2,000 for the community mural at the Central Library. There is an additional budget for scaffolding rental. Applicants will be vetted through a process that includes selection by the MCL Art Committee and past MCL Artists-in-Residence. The selection team will vet artists who demonstrate a viable way for community input on the final design with the possibility of community members contributing in painting the mural.
Accepted proposals will include:
Content that is suitable for all audiences.
A visual representation of people and community.
Community centered artwork created from required community input.
The artwork's appearance and visual relationships with the surrounding environment shall also be considered. Proposals that include 3D elements will be considered since this is an inside location.
The following design features will not be approved by Mesa County Libraries:
Artwork considered to be a public nuisance.
Animation and moving parts, flashing disks that simulate lighting, text messages.
Water features.
Company logos or symbols, living logos, commercial signage or advertising.
Physical flags & banners.
Artwork that requires electricity or lighting.
Tag crew affiliation, monikers, gang affiliation.
Artwork shall also be designed using long lasting materials, which require minimal care and resist vandalism. The artwork will not be detrimental to the longevity of the structure. The artist will be responsible for all supplies to create their mural.
MURAL LOCATION AT CENTRAL LIBRARY
Size: 4'W X 14'H. Please note: framework will be removed and wall will be repaired by MCL before the mural process begins.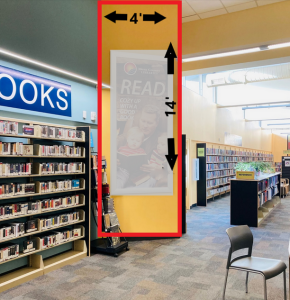 IMPORTANT DATES
Entry deadline: 8 p.m., Monday, May 8.   The deadline for submissions has expired.
Artist notification: By May 26, 2023.
Community input and finalized mural design: August 1, 2023.
Begin mural no later than: September 1, 2023.
Mural completed no later than: November 4, 2023.
SUBMISSION GUIDELINES
Complete online application a below by 8 p.m. on Monday, May 8, 2023.
Submit additional application materials via email to jgeddes@mcpld.org by 8 p.m. on Monday, May 8, 2023. Include a comprehensive plan of your proposed mural to include ideas on how the artist will gain community input. Input possibilities include but are not limited to events, surveys, public input submissions. The library will support the artist in setting up these input session(s).
Your application of interest will be reviewed by a panel and you will be notified via email of your status by May 26, 2023.
If selected, you agree to complete your mural by Saturday, November 4, 2023 as part of the library's annual Culture Fest celebration. Your installation may be filmed and posted on social media.
Questions should be directed to Jessica Geddes, Art Librarian at 970-683-2418, jgeddes@mcpld.org