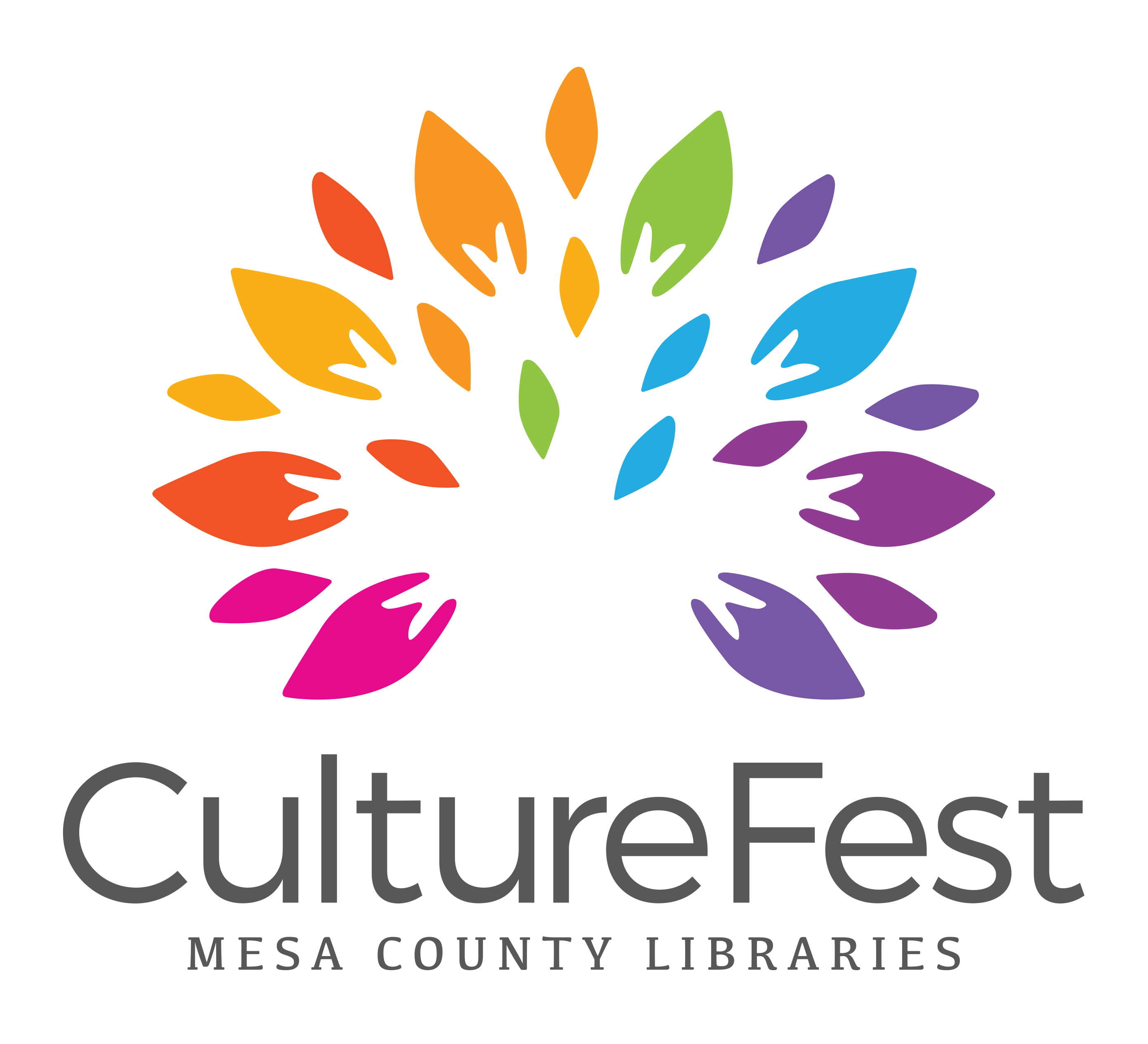 Culture Fest Juried Art Show Call for Artists
Submissions have closed.
The Culture Fest Art Show Celebrates Artists of Mesa County with an open-themed art show.
IMPORTANT DATES
Entry Deadline: 8 p.m., Monday, October 5th, 2020.
Selection notifications: October 13, 2020 by email
Accepted work delivery: Art drop off Tuesday, October 20 from 4-6pm and Wednesday, October 21 from 9-11 am in Study Room F
Artwork Pickup: Friday, January 8, 2021 from 9am- 2pm in Monument room
Show Dates: Oct 23, 2020 – Jan 7, 2021**
Official opening and reception: Due to COVID, there will be no in-person reception for 2020, however we will have a virtual show and honoraria announcement scheduled for Friday, November 6.
**If the library experiences another COVID closure this fall, we will pursue a virtual-only exhibition. If we are not closed, we will host a physical exhibition in conjunction with the virtual. Artists should give consideration to the images of artwork submitted as these will be used for the virtual exhibition.
ELIGIBILITY
1) Exhibition is competitive and open to artists 18 years of age and older residing in Mesa County, Colorado. Two-dimensional fine art, including photography and computer generated work, will be accepted.
2) Work must be ready for hanging and cannot exceed 36" x 48" or weigh more than 40 lbs. Work must be display-ready with a secure wire hanger and if subject to damage must be under glass or plexiglass.
3) Juror will have final authority to define an acceptable entry.
LIABILITY
Mesa County Libraries assume no responsibility for the preservation or protection of any exhibit accepted for temporary display, or any liability for possible damage or theft of these items while in transit or on the library premises. All works accepted for temporary display are placed at the owner's risk.
ENTRIES
Artists may submit 2 entries by digital image. An additional image of the submitted work to show detail or an alternative view is allowed. Up to 2 pieces will be accepted per artist.
SALES
The owner of the work must acknowledge and agree that the Library will not act as an agent for the owner. Artist contact information may be discreetly shown in conjunction with prices.
HONORARIA
1st Place – $400
2nd Place – $300
3rd Place – $200
Prizes provided by a grant from the Grand Junction Commission on Arts and Culture