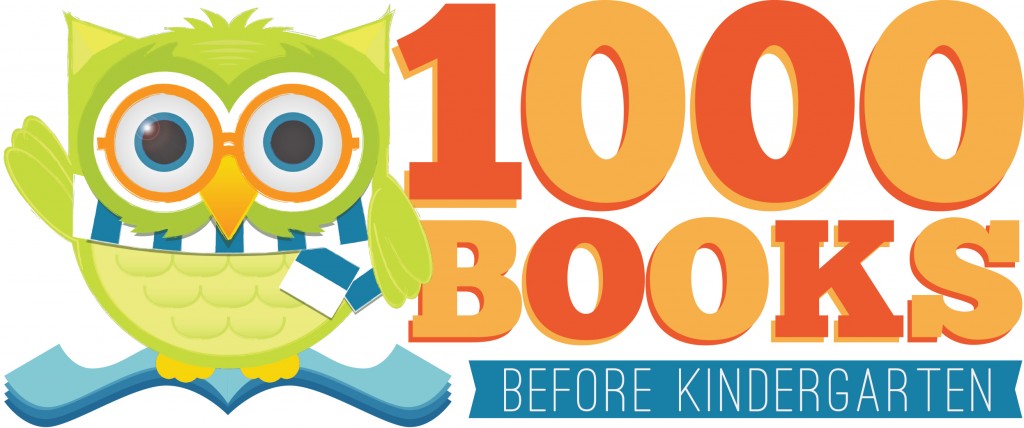 It is a simple act: an adult reading aloud to a child. According to reading and learning experts, reading aloud with your child is the single most important activity to prepare your child to learn to read. 1,000 Books Before Kindergarten can help your child to:
Love books and reading
Enjoy the library (their brains' playground!)
Learn new words
Be motivated and curious
Prepare for reading
This free program reinforces the fact that parents are their child's first and best teachers. 1,000 Books Before Kindergarten helps parents give their children a solid learning foundation.
Join 1,000 Books Before Kindergarten to help your preschooler get ready to read!
How the Program Works:
After reading 100 books, bring your log to the library and your child will receive a stamp on the reading log. A green leaf with your child's name will go onto our Reading Tree. For every 100 books read and recorded, your child will receive a stamp.
When you reach the milestones of 200 and 500 books, your child will receive a surprise. Also at the 500 level, we will put a silver leaf on our Reading Tree with his or her name on it.
Keep reading until you reach 1,000 books and your child will receive a free book. We will also put a gold leaf with your child's name on it onto our Reading Tree.
Reading Superheroes:
Older siblings can be Reading Superheroes! When a sibling reads to a younger child participant, big brother or sister can write the book titles on the reading log and color the star on the corresponding line. When the older child has read fifty books to a younger child, the older child will receive a free book!!
Frequently Asked Questions:
How long does it take to read 1,000 books to a child?
If you read only one bedtime story every night for three years you will have read 1,095 books! If you read three books a day to your child, in just one year you will have read 1,095 books! Read at your own pace. ​The most important thing to remember about the program is to keep it fun as a positive reading experience.
Do we have to read books from Mesa County Libraries?
You can read books from anywhere, such as your home, the doctor's office, preschool, or other libraries.
What if my child wants to read the same book over and over?
Repetition is key to learning. Each time you read a book, it counts. Write down the title every time you read the same book.
I have more than one child that I read to. Can I count the same title for each child?
Yes, you can!
Can I count books that are read at story time?
Certainly! Any and every book your children hears at story time counts for this program.
My child has an electronic (or a computer game) that reads a story to him/her. Can I count that?
As long as your child listens to the entire story, you can count it. Please don't count it if he or she just plays the games. Be sure to check out the sites BookFlix and Tumble Books on our website for terrific stories.
What if my child listens to a book on CD? Can I add that to the reading log?
Sure, as long as your child has listened to the entire story.
My child "reads" books to him/herself. Should I count those?
If your child is only pretending to read, you should not count it. If your child has memorized a book you read together frequently and can read it to him/herself, then go ahead and count it.
Suggestions:
Children learn best when they are in a good mood, so read with your child when the experience will be the most pleasurable for both of you. Have fun!
Take every chance you have to read with your children, tell and talk about stories, say nursery rhymes, sing songs and attend library programs.
Expose your children to a variety of different types of stories and vocabulary. It is expected for children, especially young children, to have their favorite books they want to hear over and over. But when you have the opportunity, introduce new stories so your child has a chance to experience and hear as many new words and concepts as possible.
Resources:
Many of the facts and tips on this page are taken from the American Library Associations' website and the Association for Library Service to Children (ALSC) website.