About Factory
Location: 750 Main Street, Grand Junction, Colorado
Factory is a collaboration between LaunchWest, the Colorado Advanced Manufacturing Alliance (CAMA), and Mesa County Libraries.
Factory is a co-working space, designed and managed to encourage networking and collaboration among entrepreneurs, small business owners, creators – people who would otherwise work from home. Besides a community of people, Factory offers super-high speed internet access, a warm work environment, and a bottomless cup of coffee.
As an adult library patron living in Mesa County, you may use the open co-working spaces at Factory at no cost up to 5 times in a month during the hours of 9 am to 5 pm. Factory also offers dedicated co-working spaces (your space is reserved just for you), 24/7 access, as well as small and medium-sized offices to its paying members.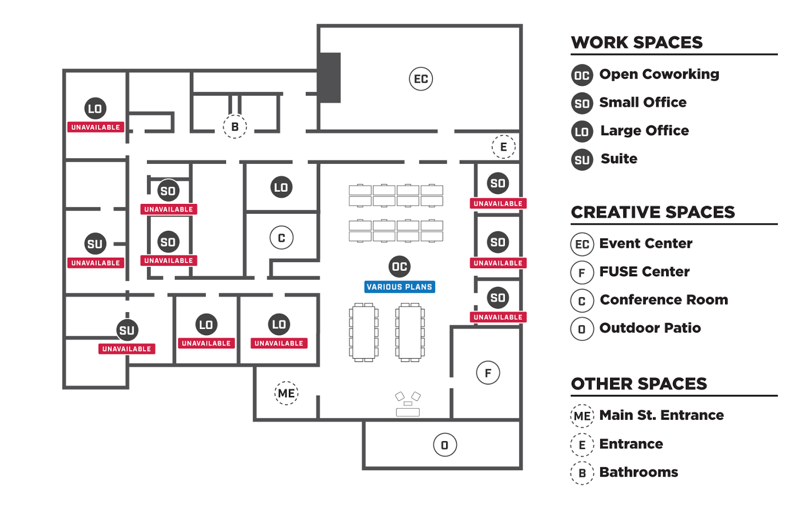 Guidelines
To access the internet, obtain a promotion code and instructions from the library's Factory Coordinator at the information desk.
You are welcome and encouraged to talk about your business, your experience, or your skills with other members, but please stop short of soliciting sales, business, jobs, or referrals from them.
Factory is a workplace for community members. Feel free to socialize on the patio.
The conference rooms are available by reservation to Factory members only. The offices at Factory are also available through Factory membership. If you are interested in obtaining Factory membership, please let us know or check us out at factorycoworking.com.
Be considerate of the people working in the shared space – use your space and not your neighbor's, step outside to make phone calls, clean up after yourself, and take your things with you if you will be gone for more than 10 minutes.
You may bring your service dog into Factory. Please leave other pets at home.
For more information, email factory@mcpld.org or call (970) 834-3535