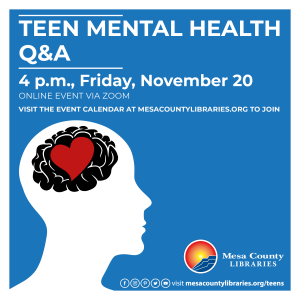 Teen Mental Health Q&A – 4pm, Friday, November 20th via Zoom:
Hali Nurnberg, MA and LPC from the Counseling and Education Center, will be hosting a virutal mental health conversation with teens over Zoom. Teens will have the opportunity to have their questions answered by a mental health expert. With the holidays coming up, it can be a stressful time of year!
To join this Zoom session, please follow this link to the Event Calendar.
Gathering of Awesome Teens (GOAT) meeting – 4-5pm, every 1st Monday: GOAT is an appointed group of 12 to 18 year olds who help create and run teen events, offer library purchase suggestions, and  help out in their local community. GOAT holds a members-only meeting once a month. Find out more information and apply.
Please note we are not offering any of the in-person programming below until further notice.
Teen Homework Help – 4-6pm, Thursdays (when school is in session) at the Central Library: A quiet place to do your homework and/or get homework help.
Teen Art Reception – 6-8pm, most 1st Thursdays when school is in session at the Central Library: Enjoy light refreshments and check out artwork from local students in collaboration with Super Rad Art Jam.
Teen Gaming – 3:30-5:30pm, every 2nd Friday at the Central Library: Play your Xbox, Playstation, and Switch favorites on the giant screen! Popular picks include Super Smash Bros Ultimate, Street Fighter V, Star Wars: Battlefront, Mario Kart, and more.
Teen Tabletop Gaming – 3:30-5:30pm, every 3rd Friday: Get together with other teens and play board games like Werewolf, Settlers of Catan, Splendor, and more!