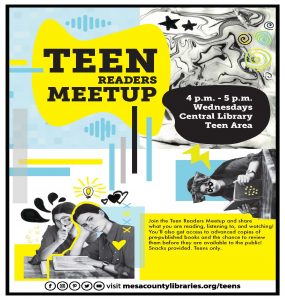 Gathering of Awesome Teens (GOAT) meeting – 4-5pm, every 1st Monday at the Central Library: GOAT is an appointed group of 12 to 18 year olds who help create and run teen events, offer library purchase suggestions, and  help out in their local community. GOAT holds a members-only meeting once a month. Find out more information and apply.
Teen Themed Tuesdays – 4-5pm, every Tuesday at the Clifton Library: Come to the Clifton branch each Tuesday afternoon for a different theme every week. Themes include games, crafts, hands-on-science, and fun!
Teen Readers Meetup – 4-5pm, Wednesdays at the Central Library: This is a book club where we read whatever we want. Wondering what to read next? Have an awesome book you want to tell the world about? Come to this casual meetup to discuss what you're into, listen to recommendations, and check out brand new titles before they hit the shelves. Snacks provided!
Teen Art Reception – 6-8pm, most 1st Thursdays when school is in session at the Central Library: Enjoy light refreshments and check out artwork from local students in collaboration with Super Rad Art Jam.
Dungeons and Dragons – 4-6pm, every 1st Friday and 3rd Monday at the Central Library: Join an ongoing Dungeons and Dragons campaign! All are welcome, whether you're a seasoned pro or completely new to D&D.
Teen Gaming – 3:30-5:30pm, every 2nd Friday at the Central Library: Play your Xbox, Playstation, and Switch favorites on the giant screen! Popular picks include Super Smash Bros Ultimate, Street Fighter V, Star Wars: Battlefront, Mario Kart, and more.
Teen Tabletop Gaming – 3:30-5:30pm, every 3rd Friday: Get together with other teens and play board games like Werewolf, Settlers of Catan, Splendor, and more! A guest from Board Fox Games will join and bring new and exciting games each session.
Teen ??????????? – 3:30-5-:00, every 4th and 5th Friday: We having something new and different every 4th and 5th Friday of the month. It could be decorating mugs, learning about resumes, a party, an escape room, or, really, anything! Click on the button below to check out what's happening on specific Fridays.