Slideshow – click to view larger image; use arrows or dots to navigate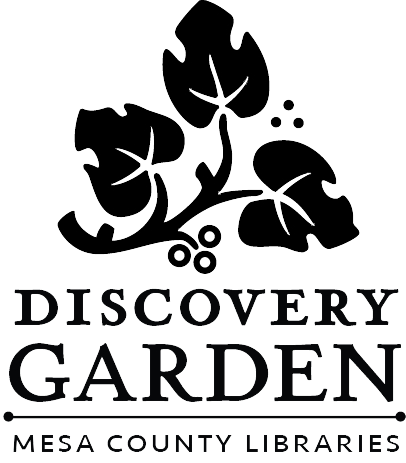 The Mesa County Libraries Discovery Garden project is a series of interactive and demonstrative gardens that will provide education, food, respite, and community engagement. A variety of gardening techniques will be modeled, including xeric, raised bed, in-ground farming, pollinator, and permaculture design. The Discovery Garden is by the community and for the community!
About the Discovery Garden
The Discovery Garden, occupying library-owned ground at Fifth Street and Chipeta Avenue in Grand Junction, will be a place where volunteers and organizations create and maintain a beautiful space for learning and growing.
Plans include a variety of demonstration gardens, a children's garden, a community food plot, a food forest/uncommon fruit orchard, a pollinator garden, a seed house, a shade pavilion, benches, a shed, and a compost facility. The Discovery Garden will have a space where people can gather for educational programs and events.
The library is seeking grants and assistance from community partners to fund and build the project.
The Discovery Garden won't offer gardening plots to individuals. Instead, the community food plot will be used to grow food crops for donation to local organizations such as food banks. The garden also will serve as a location for education programs, quiet relaxation, and general enjoyment.
Get Involved!
We need your help to build the Discovery Garden! Please see below for a list of needed tools, plants, supplies, and equipment, or contact our volunteer coordinator, Nicole Fitzgerald, at 970-683-2432 to learn how to volunteer at the next Discovery Garden workday!
Needs List:
Children's-sized shovels, gloves, wheelbarrow, and outdoor water table station
Hand trowels
Pitch fork
Chicken wire fencing
We extend our heartfelt thanks to the following partners and community contributors who are helping to make the Discovery Garden a reality. Thank you!
Nvision Design Studio
Dragonfly Gardens
Paintbrush Gardens
Dark Matter Organics
Colorado State University Western Colorado Research Center
Chipeta Elementary
Friends of Mesa County Libraries
Desert Vista Garden Club
Grand Junction Parks and Rec Forestry Department
Boy Scouts of America – Noah TerLouw
Pavia Justinian Fine Art
Rocky Mountain Seed Alliance
Taylor Fence
84 Lumber Company
Western Colorado Community College Agricultural Department
Western Colorado Conservation Corps (Partners)
Mesa Conservation District