Mission Statement
Through its fundraising, the Mesa County Libraries Foundation supports, sustains, and enhances Mesa County Libraries' efforts to enrich lives and build community.
The Foundation is an IRS 501(c)(3) organization, and contributions are tax deductible. Gifts of cash, stock, bonds, and bequests are welcome.
Other Ways to Donate
Gifts of Stock (appreciated stock):
Gifts of appreciated stock offer tax benefits to the donor and create a bigger a bigger impact. To donate stock:
DTC Eligible Securities:
DTC Participant #: 2669
Agent ID#: 20290 Northern Trust
Institution ID#: 78500 Alpine Bank
Account #: 17-92314
Account Name: Alpine Bank
For Further Credit: Mesa County Public Library
Foundation Stock Receipt & A/C #60000588
Please contact  Alpine Bank Wealth Management at 970-245-5627 with any questions about donating stock.
To mail your tax-deductible gift, please print this form and send to:
Mesa County Libraries Foundation
443 North 6th Street
Grand Junction, CO 81501
ReFUND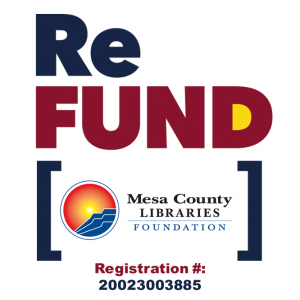 You can use your state tax refund to support the library!  When filing your taxes, watch for the 'Donate to a Colorado Nonprofit Fund' prompt.  Use the Mesa County Library Foundation registration #20023003885 to donate all or part of your state tax refund to support Mesa County Libraries.
For more information about the Foundation or donating, please call Interim Development Director Ami Schiffbauer at (970) 683-2438.
Thank You For Your Support!