About the Discovery Garden   |   Garden Progress   |   Grants Received   |   Get Involved!   |   Educational Resources   |   Community Partners
Slideshow – click to view larger image; use arrows or dots to navigate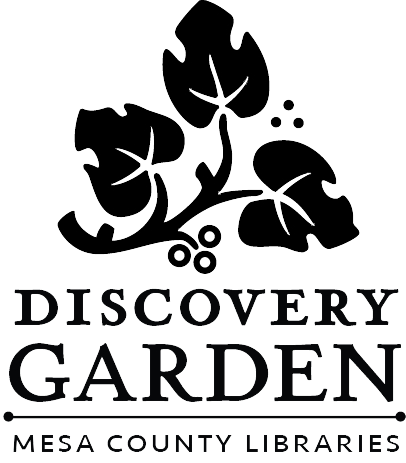 The Mesa County Libraries Discovery Garden project is a series of interactive and demonstrative gardens that provides education, food, respite, and community engagement. Our goal is to promote nutrition literacy, keep up with the needs of the community, and uphold pesticide-free, permaculture-focused methods that help conserve water and build healthy soil.
A variety of gardening techniques are modeled, including xeric, raised bed, in-ground farming, pollinator, seed-saving, and permaculture design. The Discovery Garden is by the community and for the community!
About the Discovery Garden
The Discovery Garden, occupying library-owned ground at Fifth Street and Chipeta Avenue in Grand Junction, is a place where volunteers and organizations create and maintain a beautiful space for learning and growing.  The space can be used for people to gather for educational programs, events, and workshops. Plans include a variety of demonstration gardens, a children's garden, a community food plot, a food forest/uncommon fruit orchard, a pollinator garden, a seed house, a shade pavilion, benches, a shed, and a compost facility. The Discovery Garden does not offer gardening plots to individuals. Instead, the garden is a designated space for quiet relaxation and general enjoyment where people of the community can pick their own food and experience educational programs.
Garden Progress
Once a CSU community garden, then a vacant lot, now a field of potential.  In the past year this plot of land has seen some fantastic progress. Since its humble beginnings, the Discovery Garden has undergone the following developments with the help of amazing volunteers and community partners:
Added perimeter fencing
Added multiple raised beds
Planted food and flowers of many different varieties
Added low impact irrigation to help the area thrive
Experienced our very first growing season, harvest, seed exchange, and outdoor programming
Created a new concept map to reevaluate the space
Added pathways to add to visual appeal and ease of walking
Grants Received
The Discovery Garden is honored to have received $33,000 in grant money during the past year. The following community partners have graciously helped us achieve our goals: Friends of the Library – Grants used to build perimeter fence, purchase plants, flowers, seeds, soil, and tools. Desert Vista Garden Club – Grant used to create the Children's garden, purchase plants, and purchase art materials for the Arbor used as entryway to the Children's Garden. AARP – Grant used to build pathways and benches. Rotary Club  – Grant used to build raised beds and help fund educational events and children's programs. Western Colorado Community Foundation (WCCF) – Grant used to create bioswales and micro basins. Mesa Conservation District  – Grant used to build a hoop house, install irrigation, and further compost education. Kiwanis Club of Grand Junction – Grant used to purchase programming supplies and tools for youth groups throughout the summer and school year. 
Get Involved!
We need your help to build the Discovery Garden! Please visit our volunteer page to learn how you can join us at the next Discovery Garden workday! Tools and equipment donations welcome and appreciated – call to inquire what's needed.
Educational Resources
Recommended Reading Lists for Adults:
Recommended Reading Lists for Kids
Community Partners
We extend our heartfelt thanks to the following partners and community contributors who are helping to make the Discovery Garden a reality. Thank you! 84 Lumber Company AARP Boy Scouts of America – Eagle Scout, Noah TerLouw Chipeta Elementary Colorado State University Western Colorado Research Center Dark Matter Organics Desert Vista Garden Club Dragonfly Gardens East Middle School Friends of Mesa County Libraries Grand Junction Parks and Rec Forestry Department Hilltop Resource Center Many devoted individual community volunteers! Mesa Conservation District Nyssa Capps – local artist Nvision Design Studio Paintbrush Gardens Pavia Justinian Fine Art Rocky Mountain Seed Alliance Taylor Fence Western Colorado Community College Agricultural Department Western Colorado Community Foundation Western Colorado Conservation Corps (Partners)