Meet the new Artist in Residence Charles Walker!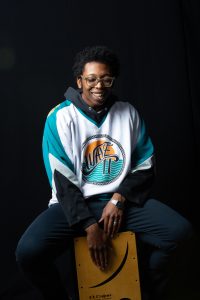 Charles "ChuckJay" Walker is from San Jose, CA where he and his three sisters were raised by Charles and Felicia Walker. Groomed in the church by a COGIC State Organist father, Charles was heavily influenced by Gospel music. He went on to graduate from Gilroy High School where he started his choir journey, and went on to study music at West Valley College and San Jose State University. He then started producing music and playing piano in 2015, after his father's passing. He moved to Grand Junction, CO in 2016 for a fresh start and new beginnings.
Wave 11, one of Grand Junction's premiere bands, was formed in 2017 with former bandmate Zack Couron. Wave 11 released an album "Wisdom and Strength" and performed at many big festivals and local venues in CO. The band now consists of Derek Suiter and Charles Walker, providing a new high-flying hip-hop show that's bound to make you jump!
Charles also teaches private lessons for vocal singing, music production, songwriting, drums, piano, and music theory. While working at The Winery, he enjoys being able to provide music influence to the community of Mesa County and plans to continue music excellence at the highest plateau possible. He lives with his wife Zoe and daughter Winnie in Grand Junction, CO and enjoys being with family and friends.
To learn more about the programs that Charles is offering, visit the Event Calendar.
---
About the Artist in Residence (AIR) Program
Mesa County Libraries provides studio space in the 970West Studio through the Artist In Residence Program. Artists are encouraged to use this fourteen-week residency as an opportunity for growth and development while engaging with the community.
The Artist in Residence program aims to support the endeavors of our local artists who connect and engage the community with a variety of arts. Selected artists will receive a $500 stipend courtesy of the Mesa County Libraries Foundation.  Artists will have studio space to hone and focus their creative talents while sharing their expertise and skills with the community through scheduled presentations or workshops at the library.
Eligibility
Artists 18 years of age and older, residing in Mesa County, CO, and with a valid library card may apply. Artists selected for this program are at all stages in their careers and work in one or more of the following media: drawing, painting, fiber arts, sculpture, photography, video, music, fiction and nonfiction writing, and poetry. Artists working in other mediums are encouraged to apply and will be considered based on limitations of the studio. Applicants will be required to undergo a background check.
Selection Criteria
● Ability to teach and conduct workshops or presentations
● Readiness to engage with and benefit from the residency experience
● Artistic expression
● Dates of previous artists of similar items or topics
● Special needs, costs, or requests associated with space use or workshops
● Overall community interest
● Historical prominence or significance of the artist's work
● Relevance to library programs
Process
Applications generally open up at the beginning of each calendar year and will be posted at the top of this page.  Residencies will be determined by the Art Committee members and additional library staff. All application materials must be submitted by the posted deadline. Work samples will be reviewed based on their technical aspects, and final residency selections will be determined by an interview process.
Artist's Responsibility
While in the 970West Studio, Artists in Residence are expected to comply with the Library's Code of Conduct. Additionally, each resident is expected to:
Work with library staff to provide at least three library programs offered during his/her residency.
Occupy the studio a minimum of six hours per week. A minimum of two of the six hours must be scheduled open studio time for community engagement.
Provide a short presentation to the MCL Foundation Board about his/her residency.
Allow the library to provide the following for its online catalog:

A photograph (taken by staff, in the studio or at a library program) of the artist at work
One digitized piece of the artist's work
A video recording of a brief interview between the artist and the library
The library respects all copyright laws and recognizes that intellectual property rights reside with the artist.
For more information or questions, please contact Jessica Geddes at air@mcpld.org or call 970-683-2418.