Meet the new Artist in Residence Caleb Ferganchick!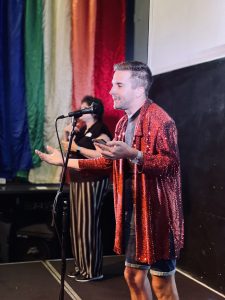 Community organizer and persistent cause of good trouble, slam poet activist Caleb Ferganchick (he/they) is the new 970West Artist in Residence at Mesa County Libraries.
His annual slam poetry show, Slamming Bricks, will occur during his residency on September 10, 2022 at Charlie Dwellington's (103 N 1st St).
Hosted by the Western Colorado Writers' Forum, Slamming Bricks is the state's largest LGBTQ+ intersectional poetry slam competition commemorating the 1969 Stonewall Riots. Poets from across the American West compete in four rounds of poetry in a battle for the brick exploring themes of resistance and liberation. Slamming Bricks has hosted notable poets and performers like Colorado Poet Laureate, Bobby LeFebre, and Eureka O'Hara, star of HBO's Emmy nominated show "We're Here."
Ferganchick's own poems center his experience as a rural queer, navigating identity and the space it occupies, and fights for, as a therapeutic approach to overcoming adversity and trauma.
They are the self-published author of "The Secret of Sunflowers" and "Poetry Heels." Additional work of theirs has been published or featured in various anthologies, online journals, and podcasts like the "South Broadway Ghost Society" and "Slam Ur Ex." Some of these works are available for check out through Mesa County Libraries. He has also hosted lectures and workshops for Central High School, Colorado Mesa University, and the Grand Mesa Youth Services Center.
Ferganchick is a life-long Western Slope resident. They currently work as a paddleboard instructor and serve as the head coach for Central High School's Speech and Debate team. He is also a board member for the Western Colorado Writers' Forum and Mutual Aid Partners.
To learn more about Caleb's event offerings, visit the event calendar.
2023 Artist in Residence Call for Artists
To apply for the 2023 Artist in Residence program, click here.
---
About the Artist in Residence (AIR) Program
Mesa County Libraries provides studio space in the 970West Studio through the Artist In Residence Program. Artists are encouraged to use this fourteen-week residency as an opportunity for growth and development while engaging with the community.
The Artist in Residence program aims to support the endeavors of our local artists who connect and engage the community with a variety of arts. Selected artists will receive a $500 stipend courtesy of the Mesa County Libraries Foundation.  Artists will have studio space to hone and focus their creative talents while sharing their expertise and skills with the community through scheduled presentations or workshops at the library.
Eligibility
Artists 18 years of age and older, residing in Mesa County, CO, and with a valid library card may apply. Artists selected for this program are at all stages in their careers and work in one or more of the following media: drawing, painting, fiber arts, sculpture, photography, video, music, fiction and nonfiction writing, and poetry. Artists working in other mediums are encouraged to apply and will be considered based on limitations of the studio. Applicants will be required to undergo a background check.
Selection Criteria
● Ability to teach and conduct workshops or presentations
● Readiness to engage with and benefit from the residency experience
● Artistic expression
● Dates of previous artists of similar items or topics
● Special needs, costs, or requests associated with space use or workshops
● Overall community interest
● Historical prominence or significance of the artist's work
● Relevance to library programs
Process
Applications generally open up at the beginning of each calendar year and will be posted at the top of this page.  Residencies will be determined by the Art Committee members and additional library staff. All application materials must be submitted by the posted deadline. Work samples will be reviewed based on their technical aspects, and final residency selections will be determined by an interview process.
Artist's Responsibility
While in the 970West Studio, Artists in Residence are expected to comply with the Library's Code of Conduct. Additionally, each resident is expected to:
Work with library staff to provide at least three library programs offered during his/her residency.
Occupy the studio a minimum of six hours per week. A minimum of two of the six hours must be scheduled open studio time for community engagement.
Provide a short presentation to the MCL Foundation Board about his/her residency.
Allow the library to provide the following for its online catalog:

A photograph (taken by staff, in the studio or at a library program) of the artist at work
One digitized piece of the artist's work
A video recording of a brief interview between the artist and the library
The library respects all copyright laws and recognizes that intellectual property rights reside with the artist.
For more information or questions, please contact Jessica Geddes at air@mcpld.org or call 970-683-2418.