Applications are now closed for the 2019 Artist in Residence season – we will begin accepting applications for the 2020 season during fall, 2019.

Current Artist in Residence:
January 14 – April 22, 2019: Julia March Crocetto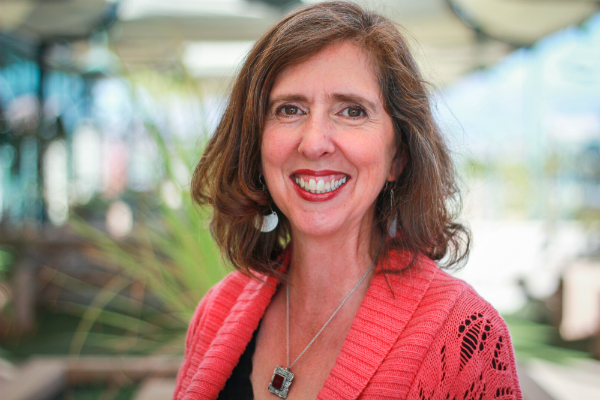 Research and process are at the root of Crocetto's artistic practice. After studying architecture, she became more interested in the possibilities of fibers, painting, and sculpture. Topography, wilderness, and other influences of the Greater West have become infused in her work, developed over many years of living and working in national parks and across the West. Using the language of traditional quiltmaking and contemporary resources such as LandSat imagery, she investigates water and land use and her own recollections of the West.
Her first solo exhibition was in 1993. In 2004, she was invited to participate in the Holland/Alaska Cultural Exchange in the Netherlands. Since 1985, she has taught workshops in Kansas, Alaska, Arizona, and Colorado. She currently teaches art at Colorado Mesa University. Crocetto received her BFA from the University of New Mexico, summa cum laude, and her MFA from the Oregon College of Art and Craft.
"My inquiries revolve around the exploration of place, expressed with mark-making through printmaking techniques, painting, and stitching," Crocetto said. "My work is influenced by living in the Greater West in the era of the Anthropocene, bearing witness to our fraught relationships with wilderness and wildness. Through wrapping, collecting, and mapping, I attempt to create tangible connections with place, embracing the perceived futility of harnessing the intangible, allowing the absurd to take a role in my work."
"I am curious about the overlap of systems, points of friction, adaptation, and cooperation, and seek the poetic conversations that can be found there. My practice leverages process and alchemy to imbue the work with the complexity I encounter. The resulting artifacts – which have been painted, stitched, folded, buried, neglected, rusted, and/or dyed – may be seen as maps, journals, quilts, or objects of contemplation; image and object become intertwined," Crocetto said.
Check our event calendar for a list of library programs Julia will offer during her residency. She will also host open studio hours from 2-4 p.m. each Tuesday from 1/14 – 4/22.
---
About the Artist in Residence (AIR) Program and Application
Mesa County Libraries provides studio space in the 970West Studio through the Artist In Residence Program. Artists are encouraged to use this fourteen-week residency as an opportunity for growth and development while engaging with the community.
The Artist in Residence program aims to support the endeavors of our local artists who connect and engage the community with a variety of arts. Selected artists will receive a $500 stipend courtesy of the Mesa County Libraries Foundation. Artists will have studio space to hone and focus their creative talents while sharing their expertise and skills with the community through scheduled presentations or workshops at the library.
Eligibility
Artists 18 years of age and older, residing in Mesa County, CO, and with a valid library card may apply. Artists selected for this program are at all stages in their careers and work in one or more of the following media: drawing, painting, fiber arts, sculpture, photography, video, music, fiction and nonfiction writing, and poetry. Artists working in other mediums are encouraged to apply and will be considered based on limitations of the studio. Applicants will be required to undergo a background check.
Selection Criteria
● Ability to teach and conduct workshops or presentations
● Readiness to engage with and benefit from the residency experience
● Artistic expression
● Dates of previous artists of similar items or topics
● Special needs, costs, or requests associated with space use or workshops
● Overall community interest
● Historical prominence or significance of the artist's work
● Relevance to library programs
Process
Residencies will be determined by the Art Committee members and additional library staff. All application materials must be submitted by the posted deadline. Work samples will be reviewed based on their technical aspects, and final residency selections will be determined by an interview process.
Artist's Responsibility
While in the 970West Studio, Artists in Residence are expected to comply with the Library's Code of Conduct. Additionally, each resident is expected to
Work with library staff to provide at least three library programs offered during his/her residency.
Occupy the studio a minimum of six hours per week. A minimum of two of the six hours must be scheduled open studio time for community engagement.
Provide a short presentation to the MCL Foundation Board about his/her residency.
Allow the library to provide the following for its online catalog:

A photograph (taken by staff, in the studio or at a library program) of the artist at work
One digitized piece of the artist's work
A video recording of a brief interview between the artist and the library
The library respects all copyright laws and recognizes that intellectual property rights reside with the artist.
For more information or questions, please contact Jessica Geddes at 970west@mcpld.org or call 970-683-2418.