If you can't find what you're looking for in our shared Marmot catalog, please use one of the following options:
1. Search Prospector
Prospector gives you access to millions of items through a partnership with eastern-slope and other regional libraries. Please search both Marmot and Prospector before placing an Interlibrary Loan or Suggest a Purchase Request. To search Prospector, select it from the drop-down menu in our catalog: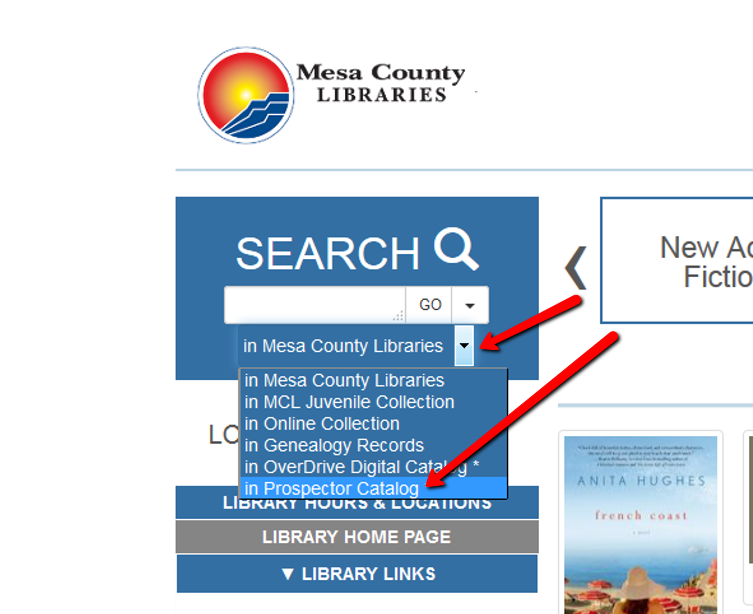 2. Fill Out an Interlibrary Loan Request
The library borrows materials from Colorado libraries and libraries nationwide. If you can't find what you're looking for in Marmot or Prospector, you may fill out an Interlibrary Loan (ILL) Request. We make every effort to get ILL items within 2-3 weeks. Specialized items such as genealogy, DVDs of movies, and TV series may take longer, and some libraries may charge to lend specific items. Please be aware that items received through Interlibrary Loan may be covered under the copyright law. The copyright law of the United States (Title 17, United States Code) governs the making of photocopies or other reproductions of copyrighted materials.
3. Suggest a Purchase for the Library
To suggest that the library purchase materials (books, music, DVDs, etc.), please fill out the form below.  If you choose to place a hold on the item, and if we purchase it, we will notify you when it arrives: