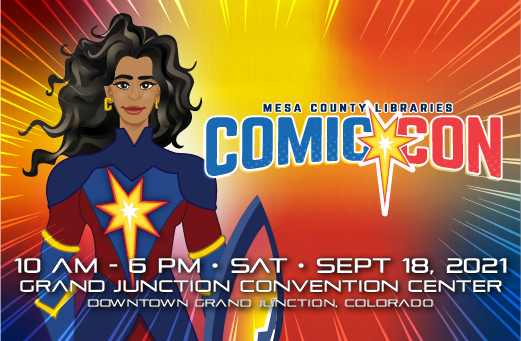 Comic Con 2021
Mesa County Libraries Comic Con will be held on Saturday, September 18, 2021, from 10am - 6pm at the Grand Junction Convention Center. Admission is free with a Mesa County Libraries Card or $5 at the door. Kids 10 and under are free!
Mesa County is currently experiencing a high transmission rate of the Delta variant of Covid-19. All Comic Con attendees are asked to be vaccinated and/or tested before attending the event. We ask all attendees to follow safety measures by social distancing, wearing a face covering and to stay home if experiencing any Covid-19 symptoms.
Slideshow - click to view larger image; use arrows or dots to navigate
Schedule of Events
Schedule of events coming soon!
Cosplay Contest
Cosplay contests will take place on the Cosplay Stage breezeway between the convention center and hotel. Contestants may wear costumes of any kind as long as they conform to the Rules of Cosplay.
Registration will take place on the north entrance to the breezeway (closest to Main Street) 30 minutes before each contest. The first 100 cosplayers to arrive for registration in each age group will be entered in their respective contests. The first 20 groups to arrive for registration in the Group Cosplay Contest will be entered. Preregistration is not available.
Contestants will line up during registration and then wait to be called to the stage. Contestants will provide a brief description for the emcee to read as they cross the stage. On stage, characters will exhibit several poses and exhibit all-ages-appropriate character cosplay for 45 seconds each or 90 seconds per group.
Judging by library staff, volunteers, costume professionals, and community artists will evaluate contestants on the following criteria: creativity/originality, craftsmanship/technique, and stage presence/personality.
Prizes for 1st, 2nd, and 3rd place in each age category will be awarded shortly after each contest. Prizes for one winning group in the Group Contest will be awarded as well. Prizes will include gift cards to Downtown Grand Junction, Top Five Comics, and Regal Cinemas.
Contest Schedule
11:00AM
Kids Cosplay Contest (Ages 11 and under)
1:00PM
Teen Cosplay Contest (Ages 12-18)
3:00PM
Adult Cosplay Contest (Ages 19 and up) to be followed by Group Cosplay Contest
Exhibitors
The Expo Hall Map can be found here.
Special Guests
Artists / Illustrators
Authors / Writers
Crafters
Media / Education
Shops
Please email comiccon@mcpld.org with any questions.
Panels
10:30 - 11:30 AM
LGBTQ Representation in Pop Culture: Post Plague Edition
Media is an ever shifting way that we define our selves, communities and spaces. Join us as we discuss our favorite and not so favorite media and its relationship with LGBTQ topics.
Beginning Cosplay/ Beginning Puppets
If you're new to cosplay or puppet building, this is a great panel to attend! Get ideas to help you get started creating costumes and/or puppets by looking at everyday objects in new ways, incorporating them into creative three-dimensional designs.
12:00 - 1:00 PM
Star Wars Costuming 101 Q&A
Members of the local chapter of the 501st Legion, an international organization of Star Wars cosplay fans, host a Q & A session about the group and what they do for the community.
Demon Slayer Meetup
A group of cosplayers in character from the manga and anime series Demon Slayer will be playing interactive games with the audience, which will include prizes.
2:00 - 3:00 PM
Comics in Video Games
This panel of video game and comics creators will discuss the connections between video games and popular culture, especially as they crossover with comics. The session will be interactive, allowing the audience to ask questions and share their opinions.
Is Art Worth it? "Hell yeah," says R. Alan Brooks

Join us for a conversation with R. Alan Brooks centered around the importance of art and his latest graphic novel Anguish Garden. R. Alan Brooks teaches writing for Regis University's MFA program and the Lighthouse Writers Workshop. He's the author of The Burning Metronome and Anguish Garden – graphic novels featuring social commentary, as well as his award-winning weekly comic for the Colorado Sun, What'd I Miss? His TED Talk on the importance of art reached 1 million views in 2 months.
4:00 - 5:00 PM
Dragons, Dinosaurs and Monsters! Filmmaking in the Grand Valley
In this panel Award Winning filmmakers Hank Braxtan and Arielle Brachfeld speak about making creature feature films in Mesa County and distributing them to Lionsgate. They are joined by Dan McClintock from the WCCC Digital Filmmaking Program, and Evan Curtis from the CMU Animation, Film, Photography and Motion Design Program, to discuss the programs available to aspiring filmmakers, and developing the innovative creative industry partnership that has been utilized for their past 3 films.
Teen Fandom Meetups
Gather with fellow teens to celebrate your favorite fandoms, debate how they should've ended, and speculate about where they're going next!
10:30 - 11:00 AM
Stardew Valley
12:00 - 12:30 PM
SkyRim
2:00 - 2:30 PM
Anime and Manga 
4:00 - 4:30 PM
Star Wars
Comic Con FAQs
What is Comic Con?
Mesa County Libraries Comic Con is a fun, free, family-friendly event that brings together fans and creators, old and young in celebrating the importance of stories and fandoms that connect us and enrich our lives. Since our first Comic Con in spring 2015, this highly anticipated event has quickly grown to attract more than 5,000 attendees from across the Western Slope. Highlighting graphic literature, sequential art, and comics as a literary medium, Comic Con includes an Expo Hall featuring local and regional artists, authors, cosplayers, crafters, and media creators. Panel presentations give attendees an opportunity to deep dive into topics of interest; fandom meetups provide opportunities to discuss favorite characters and meet others with similar passions; and everyone can take part in cosplay, photo ops, and cosplay contests.
What is cosplay?
Literally "Costume Play"-- dressing up and pretending to be a fictional character (usually a sci-fi, comic book, fantasy, or anime character).
Sponsors