Web Accessibility | Services and Resources for Persons with Disabilities | Accessible Workstations | Resources for Individuals Who Are Deaf or Hard of Hearing | Downloadable & Streaming Content | Home Delivery Services | Service Animals | Local Agency Services & Resources
Web Accessibility
Mesa County Libraries strives to ensure that our website complies with the Website Content Accessibility Guidelines (WCAG) 2.1 Level AA standards provided by the World Wide Web Consortium (W3).  If, at any time, patrons have any specific questions, feedback, or concerns about the accessibility of any web pages on our website, please contact us at ask@mcpld.org or call 970-243-4442. Please let us know the web page/URL with an accessibility issue, and Mesa County Libraries will make all reasonable efforts to address it.  Mesa County Libraries also offers links to third-party databases and resources.  It is important to note that these resources are not under the control of Mesa County Libraries and thus it cannot be guaranteed that these third-party resources or databases meet WCAG 2.1 Level AA standards.
Services and Resources for Persons with Disabilities
Mesa County Libraries is dedicated to providing equitable access for all who use the library and our collection with assistive services and technologies, which are available at the Central Library, many of our Branches, or online.   If you have any questions or concerns about our services, please contact us online or by phone at 970-243-4442.
Social Stories
Social Stories are common aides for addressing the social skills of individuals with special needs or to simply ease anxiety when visiting a new place. Social Stories help to guide new and current patrons on how to navigate a regular visit to the library. Our Social Stories are meant to be read before visiting the library–that way the patron will have an idea of how to browse the collection, ask for help from staff members, the check-out process, and how to enter and exit the building, among others. Mesa County Libraries hopes these Social Stories are wonderful guidance to your upcoming visit to the library.
Accessible Workstations
The Central Library offers a laptop with Dragon software (which must be requested in advance, by email at ask@mcpld.org) and an adaptive computer which includes a large-print keyboard, an alternative mouse with a trackball, Zoomtext, and Jaws software.
Windows Speech Recognition
Windows Speech Recognition enables voice commands to open applications, dictate text, and perform many other tasks. It enables users to speak to the computer and is helpful for individuals who experience difficulty using a traditional keyboard and/or mouse. This tool is available for use on a designated laptop that must be requested in advance (ask@mcpld.org) so that staff can prepare the device and book a Study Room. If you would like help using Windows Speech Recognition, please use this form to request a Book a Librarian appointment.
Merlin Elite Pro Low Vision Reader
The Central Library offers the Merlin Elite Pro, an enhanced vision reader available to all during open hours.  The Fruita Branch Library also offers a low vision reader during open hours.  The device enables individuals experiencing low vision to magnify text, including books and magazines, view photos, and read text out loud.  An instructional guide is available as well.
ZoomText Low Vision Reader
ZoomText software requires a reservation on a designated computer at the Central Library and offers a workstation for individuals experiencing low vision.  ZoomText can magnify content with multiple zoom levels, invert or change colors on websites and text, and print magnified documents.
JAWS Screen Reader
JAWS (Job Access With Speech) is a screen reader program that features a text-to-speech output for individuals experiencing low vision, blindness, or color blindness.  It works with a speech synthesizer to assist the user by speaking the text that appears on the computer screen and it can be used to browse the internet, fill out forms, and read web pages and documents out loud. Anyone in need of training on the device should contact the Center for Independence: 970-241-0315, 740 Gunnison Ave, Grand Junction, CO 81501, http://www.cfigj.org.  JAWS requires a reservation on a designated computer at the Central Library and headphones are available.
Resources for Individuals Who Are Deaf or Hard of Hearing
ASL Interpretation
An American Sign Language (ASL) interpreter is available for library programs, classes, and events, given adequate notice at no charge.  Please email or call us 14 days in advance at ask@mcpld.org or 970-243-4442.  If your request reaches us less than 14 days in advance, we will do our best to provide an interpreter but cannot guarantee the service will be available.
Hearing Loop

Hearing loops are assistive listening systems that provide a magnetic, wireless signal that is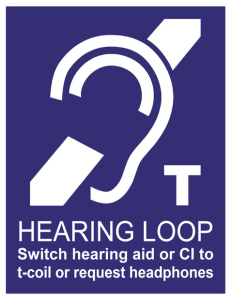 picked up by hearing aid devices with telecoils. When hearing aid users are inside the loop and their telecoil (t-coil) setting is activated, any conversation being broadcast on the facility's audio system — i.e., a program, classroom lecture, or performance — is sent directly to the telecoil in their hearing device. The Central Library can offer individual receiver devices with headsets for those without hearing aids during programs in our Community Rooms. Please inform us in advance or the day of the event if you would like to utilize the hearing loop.
Downloadable & Streaming Content
Libby
Libby eBooks and eAudiobooks are available with your MCL library card.  Libby has a number of accessibility features:
Reduce color variation so that neutral colors and good contrast are favored when interacting with book jackets and library branding in the app.
Reduce text variation so that font is limited to a single weight with no italics, all-caps displays are minimized, formatting changes are reduced, and text is simplified.
Reduce motion minimizes the animation effects.
Reduce vibrations deactivates haptic feedback.
Orientation locking allows the display to remain in position, regardless of how the device is rotated.
Keyboard shortcuts allow for quick navigation throughout the app.
Kanopy
Kanopy is a streaming service for films and documentaries, which requires a full-access MCL library card.  Kanopy provides the accessibility features listed below:
Closed captions, transcripts, and subtitles.
Option to request closed captions for titles that do not provide them.
Video player with screen reader technology when used on Kanopy's website with desktop browsers, iOS devices, or Android devices.
Home Delivery Services
Words on Wheels is a home delivery service for individuals residing in eligible parts of Mesa County.  We bring the library to you if you are unable to visit the library due to disabilities, extended illnesses, or any other type of condition which makes it physically impossible to enjoy the benefits our library has to offer.  From Palisade to Fruita, Words on Wheels delivers fiction and non-fiction books, large print books, audiobooks, magazines, and movies. Call us today at 970-683-2420 to inquire about the service or apply online.
Books By Mail is available to Mesa County residents who do not live near one of our locations.  After eligibility is confirmed, library materials can be mailed free of charge to your residence and must be returned by the due date.
The Colorado Talking Book Library of Denver ships eligible residents of Colorado large print books and audiobooks, which must be returned after use. You must fill out an application to receive services from the Colorado Talking Book Library of Denver.
Service Animals
Mesa County Libraries welcome service animals in library facilities in accordance with the Americans with Disabilities Act (ADA) and Colorado law.
Pets, companion, assistance, emotional support, and therapy animals are not permitted in the library.  Unattended animals are not permitted on library property.
Local Agency Services & Resources
Aging and Disability Resources for Colorado 
970-248-2746
https://mcadrc.org/
1129 Colorado Ave, Grand Junction, CO 81501
Provides long-term care options, health services, and empowerment for older adults, including those experiencing disabilities and their caregivers.
Arc of Mesa County
970-245-5775
www.thearcmesa.org
845 Grand Ave, Grand Junction, CO 81501
Offers advocacy for individuals experiencing intellectual and developmental disabilities, as well as their families, so they can pursue their goals.
Ariel Clinical Services
970-245-1616
https://www.arielcpa.org/
2938 North Ave Suite G, Grand Junction, CO 81504
Provides support for adults and children experiencing developmental disabilities.
Center for Independence 
970-241-0315
http://cfigj.org
740 Gunnison Ave, Grand Junction, CO 81501
Provides assistance to those experiencing disabilities to achieve independence.
Colorado Discover Ability
970-257-1222
https://cdagj.org/
601 Struthers Ave, Grand Junction, CO 81501
Aims to increase the independence, self-confidence, self worth, and education of people with disabilities through outdoor recreation.
Disability Law Colorado 
970-241-6371 / 1-800-531-2105
https://disabilitylawco.org/
322 N. 8th Street, Grand Junction, CO 81501
Provides support and protection for the rights of individuals experiencing disabilities through advocacy, legal representation, and legislative evaluation.
STRiVE
970-243-3702
https://strivecolorado.org
790 Wellington Ave, Grand Junction, CO 81501
Offers various services to support individuals and families experiencing developmental disabilities.
Vocational Rehabilitation
970-248-7103
https://dvr.colorado.gov/
222 S. 6th Street Room 215, Grand Junction, CO 81501
Provides a variety of services for people experiencing disabilities to reach employment goals and independent living.
Didn't See What You Were Looking For?
If you have any questions, concerns, or suggestions about our services, please contact us by phone at 970-243-4442 or through our online contact form.