Before using the studio, you must attend an orientation session or studio Q&A session. See our event calendar for current schedule. After attending an orientation or studio Q&A session, follow the steps below to book time at the studio:
1. Check the calendars to check availability of the studio for time and date needed. Please note our Request For Use has changed. Request the room(s) that suit the needs of your reservation. Use the diagram below to assist you in deciding which room(s) you need. Then, select appropriate equipment from that room(s) list. Both rooms must be available on the calendar to request COMBINED/BOTH ROOMS and have access to ALL equipment.
CONTROL ROOM/ISOLATION BOOTH: Solo Vocals of any type, Audio Mixing, Direct Guitar/Bass tracking via Slate VRS8s, MIDI or Audio keyboard tracking, Electronic Drums, Novation Launchpad.

LIVE ROOM: Podcast, Audio Recording, Video, Photography, Green Screen, Art Digitization.

COMBINED ROOMS: Acoustic Instruments, Drums, Full Band Live Recordings, Larger Ensembles, Podcasts. (All equipment is available when booking COMBINED/BOTH ROOMS)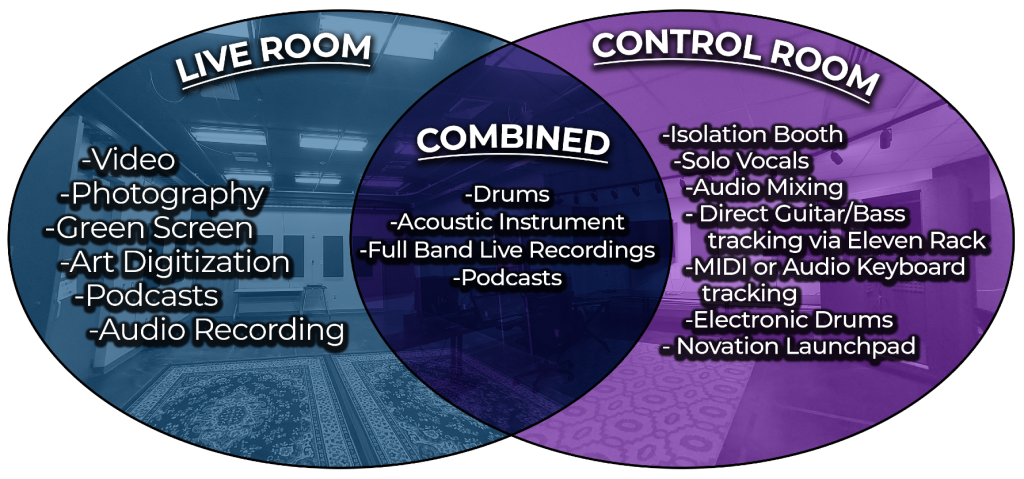 Reservations are accepted during studio open hours:
Monday – Thursday: 12pm – 7:30pm
Friday: 12pm

– 4:30pm

Saturday: 

9am – 12pm & 1pm – 4:30pm
2. Fill out the Request for Use of 970Studio form below. (View printable 970West Studio equipment list)
3. Wait for approval from staff.  Once we approve your application, we will notify you and place your reservation on the calendar. Please note:
We require 24 hours notice for all reservations.
970West Studio Calendars (check for available time slots before submitting application)
Live Room Calendar

Control Room Calendar

Request for Use of 970West Studio and User Agreement