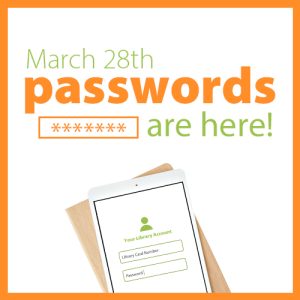 Beginning Tuesday, March 28, security passwords will be required for several online services offered by Mesa County Libraries.
Traditionally, patrons have needed only their name and library card number to place holds and use certain eResources through the library website. But to offer better protection of patrons' private information in library accounts, passwords will be required for certain services beginning March 28.
Requiring patron passwords improves computer system security and also enables us to offer new services that require password protection.
HOW TO SET YOUR PASSWORD
The transition to passwords means patrons will need to create a unique password for their library account as of March 28. Here's the process:
     

The first time you log in to your library account on March 28 or afterward, your library account will automatically have a default password consisting of the

first three letters of your last name

and the

last four digits of your library card number

(for example, doe4321).

     

Use that default password to log in to your account.

     

You will be prompted to reset the default password to a password of your choice. We encourage you to use a password or passphrase consisting of upper- and lower-case letters, numbers, and symbols.

     

Type in your new password or passphrase, and follow the onscreen directions to complete your password reset.
If you have problems resetting your password, please call or visit Mesa County Libraries, and our staff can help you. Be sure to have your library card with you. 
DO I NEED A PASSWORD?
We urge all patrons to set hard-to-guess passwords or passphrases to help protect personal information in library accounts. A good password is an effective layer of security that can discourage hackers from accessing your information.
You will be required to have a password to use certain library services.
Services that will require passwords include:
Accessing your library account to view checkouts and place holds.

Prospector.

Libby / OverDrive: A password will be required the first time a patron logs in after March 28.

LinkedIn Learning: A password will be needed to create an account (yes, we intend to offer LinkedIn Learning – formerly known as Lynda.com – soon!).
 Services that won't require passwords include:
Self-checkout stations.

Using library computers.

Print release and copy.

Reserving meeting rooms.

Registering to attend library events.
If you have questions about resetting your default password, please call or visit Mesa County Libraries for assistance.