Kid's Book Club is starting up next week with Gary Paulsen's Hatchet. Join us on March 5th at 4:30 for an awesome presentation by Dr. Bruce Baeurle on survival skills. Thinking about joining Book Club? Here's some fantastic reasons to get in on the fun: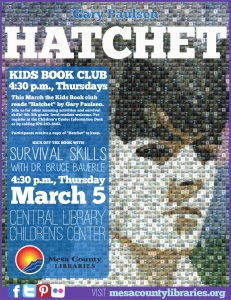 Meetings are packed with great activities – meet a pilot, learn about wild plants, do some fly tying, and more!
Share your thoughts on a book that's not only award-winning, but also very popular! Hatchet is an edge-of-your-seat ride that's sure to keep you coming back for more.
Book Clubbers will get their own copy of Hatchet to keep.
Anyone can come check out the kickoff presentation – stop by for survival skills, and stay for the book if you're interested!