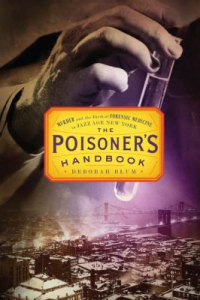 Last night the Kiva Book Club discussed The Poisoner's Handbook, a non-fiction book by Deborah Blum. All in all, it was a successful selection.
Some people found parts of the book slow, a little heavy on the technical/science side, or "gruesome," but almost all of us agreed that we were kept interested by the true stories of poisonings, the history and politics of Prohibition, and the main characters. We would have liked to learn even more about Charles Norris, the chief medical examiner, and Alexander Gettler, the toxicologist.
The revelations of the government's attitude towards poisonous and deadly alcohol during Prohibition astonished book club members. Some also recalled the days when x-ray machines were familiar in shoe stores; it was common entertainment for kids to take a look at their bones after school, even multiple times a week! The discussion of past encounters with toxins led to discussion about present encounters with common household substances and arsenic in hot spring soaks. The topic of poisons is still so relevant that just this week there was news about cyanide found in an envelope sent to the White House and news about popular wines from California that contain high levels of arsenic. Snopes states that the arsenic problem is not proven, but it shows that arsenic and other poisons are still hot topics.
To close the night, one woman asked the rest of us if this was a book we would recommend to another reader. The conclusion was that it depended on the friend's reading interest. If you're interested in forensic medicine/science television shows (for example, Bones, NCIS, Crossing Jordan), scientific developments, the birth of medical forensics, true crime, or even American history, we recommend it.
If you read the book or even just pick it up, be sure to take time for the Author's Note. After reading about this dark topic you will appreciate the laugh.
For more history, this time through fiction, join us next month to discuss The Aviator's Wife by Melanie Benjamin.