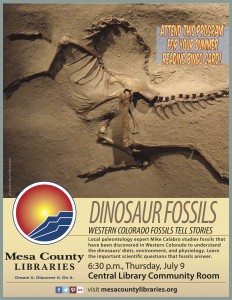 Have you ever wanted to go on a dinosaur fossil dig? Or wondered how such fossils ended up here? Local paleontology expert Mike Calabro will bring a collection of fossils for us to look over that were primarily collected in Western Colorado. There's more to discover from such fossils than we might think: plants tell us about the food chain, the geology of the area tells us about how dinosaurs survived and thrived during environmental changes, and dinosaur fossils tell us how they moved, reproduced and lived as long as they did.
Join us at the Central library on Thursday, July 9th at 6:30 p.m. for this fascinating look at the stories dinosaur fossils tell.
Attendance at this program counts toward filling one of your Summer Reading Bingo Card squares.