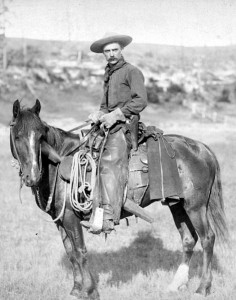 On Wednesday, August 11, 1915 Grand Junction was busily preparing for what would become an incredible display of Old West traditions. The event was called Frontier Days and it was billed as the biggest attraction ever in the short history of the city. Frontier Days would run from August 12-14 and would showcase the town and western traditions. Officials were expecting attendance of 3,000 or more.
Famous horsemen from Colorado, Wyoming, Utah, Texas, and Mexico came to compete against Western Colorado riders. A variety of other competitions included sharpshooting, horse relay races, and roping competitions. Concerts by the world famous Irwin Band and Walker Orchestra as well as nightly dances made Frontier Days an event for people of all ages and interests.
Tom May of Collbran was considered one of the favorites in the horseback relay race along with his partner, Jack Barker. May had never been defeated in Western Colorado and Barker was considered to be one of the best racers in the entire country.
Denver sharpshooter Captain Hardy's appearance at Frontier Days was also highly anticipated. He was considered one of the finest revolver and rifle marksmen and his exhibition was expected to be a major draw. Hardy held multiple records and he had been touring for years, demonstrating his record-setting abilities.
Frontier Days was sure to be an exciting event for Western Colorado citizens and visitors. Grand Junction had reached its 30-year anniversary of incorporation in 1912, and the three days of events would surely bring attention from travelers and businessmen from other areas.