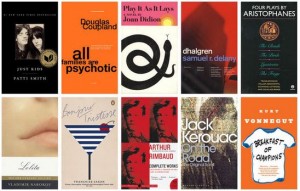 Michael Stipe is best known as the frontman for the groundbreaking band, R.E.M. but he is also a music producer, visual artist, songwriter, and activist.
From the early 1980's through the late 1990's, R.E.M. was a highly influential part of the alternative rock genre. As I grew up during the 90's the bands' songs helped define that era for me. Their hit song "Losing My Religion from the album 1991 album Out of Time was a mainstay on the radio and MTV and it still has that timeless draw for me.
In the recent New Times article Stipe lists the 10 books he would want to have with him if he was stranded on a desert island. Which books would you want to have with you?