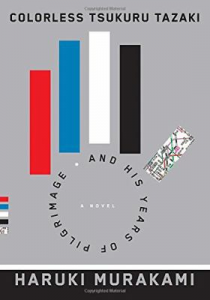 After Tsukuru Tazaki is rejected by his four best friends without explanation, an unfulfilled wish to die dominates his early adulthood. He moves through life broken and unable to truly connect with others. Gradually, he builds a life around his one true love: the building of train stations. Through this life, he meets a woman who promises more than a romantic fling. She convinces Tsukuru to confront the friends who cut him off, so that he will be able to love.
Tsukuru travels the world searching for his old friends. As he questions them one-by-one, his memories, the history of his rejection, and dreamlike visions merge to create a narrative that seems both magical, and the hallucination a broken psyche. When Tsukuru closes in on the secrets of his past, the reader begins to worry that he might be something more sinister than mere victim.
Murakami readers fanatically await each new book, and I can see why. While I was a little disappointed by the ending, this is a quick read that really pulls the reader in; a good choice for those old and new to Murakami. To check out Colorless Tsukuru Tazaki, to put it on hold, or to find other books by Murakami, search our Catalog. To find other writers like Murakami, look for read-alikes in our great reader's advisory database, Novelist Plus. Or just ask a librarian!