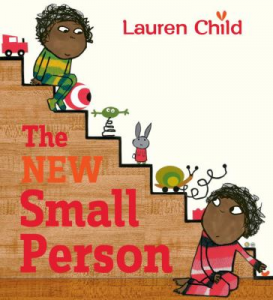 Elmore Green is a happy only child – he enjoys lining his things up and not having them moved, watching whatever he wants on television, and eating orange jelly beans. One day, however, a new small person arrives on the scene, and everything changes.
Elmore doesn't like sharing attention or play things with the new small person, but it seems this new small person is here to stay. Will Elmore ever get along with his new brother?
Lauren Child's The New Small Person captures sibling rivalry and the shock of a new brother (or sister) perfectly with an attention to detail both in the story and in the seemingly simple illustrations. Siblings old and new will recognize Elmore's struggle and eventual love for the new small person in his life.