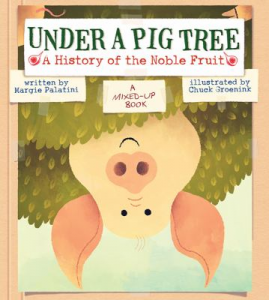 Are you looking for a great introduction to the history of pigs? Well, this week's picture book is the wrong place to start. Margie Palatini's Under A Pig Tree: A History of the Noble Fruit is supposed to be about figs, but an unfortunate mishap from the publisher changes all of the Fs into Ps, making the entire story about pigs instead!
Each page is covered with pig-filled illustrations as well as the author's angry notes desperately trying to change all the pigs back into figs. Read about "pig newtons," how to pick the best pig from a tree, and ancient pigs that were given to Olympians as medals.
Young readers as well as grownups will both find this wacky look at book editing and the consequences that a small mistake can have hilarious.