Based on a true story, And Tango Makes Three, by Justin Richardson and Peter Parnell, with illustrations by Henry Cole, is a heartwarming children's book about companionship and family. Two penguins, Roy and Silo, in New York City's Central Park Zoo, meet and become a family of two. They see the other penguin couples laying eggs and hatching babies and they want to do the same. But here's the problem (and the reason this book has been challenged and even banned in some communities) both penguins are male. But the zookeeper has a great idea: There is an egg from another couple that needs to be taken care of, so he gives this egg to Roy and Silo. They both sit on it until it hatches, and the zoo names the chick Tango.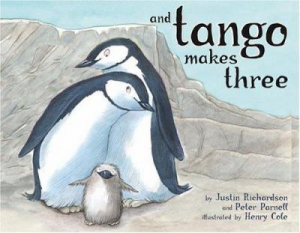 Now Roy and Silo have a family of three.
While this book has been condemned by many, it has been praised by more. Many children with same-sex parents will love to see that there are even penguins who are like their two moms or two dads. But this book isn't only for gay couples and their children. As stated above, this book is about companionship and family – two things all of us can appreciate.