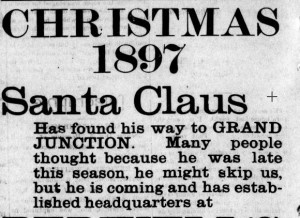 Daily Sentinel issues from 1897 and 1898 are now available digitally on the Colorado Historic Newspapers Collection. This collection contains over 200 newspapers published between 1859 and 1923. Over 690,000 pages are available to search and browse, making it a great resource for history enthusiasts and researchers.
Check out the Sentinel articles here. Other Mesa County newspapers included in the collection are the Collbran Oracle and Plateau Voice.
At the Central Library you can still access the Sentinel articles from 1893 to 2015 at the information desks or on microfilm downstairs.