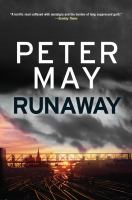 Traditionally known for his Scottish mystery series, award-winning Peter May's latest, Runaway, is a standalone, a superbly executed story of five friends who have to relive the past in order to resolve their regrets and guilt.
In 1965, Jack Mackay is a headstrong 17-year-old, ready to leave his unhappy life in Glasgow, Scotland, with his band mates to pursue musical stardom in the exploding London music scene. Their friendships are profoundly tested as they are scammed, drugged, robbed, beaten, and left with little hope for musical success. By chance they meet Dr. Robert who gives them a place to stay at Onslow Gardens, an experimental halfway house full of mentally unstable residents. It isn't long before they realize they need to escape or they will be Dr. Robert's prisoners.
Fifty years later, enlisting three from the old group, including Maurie, their former lead singer, now dying of cancer, Jack feels compelled to revisit Onslow Gardens to get answers to secrets they left behind, including two murders and the mysterious disappearance of Jack's girlfriend Rachel. Jack drags along his ne'er-do-well grandson Ricky as driver—overweight, addicted to video games, socially awkward but equipped with a brilliant mind—and the old group, minus Luke who stayed behind in 1965, heads off for London, accompanied by their aches and pains and baggage of the last fifty years, cancer, arthritic hips, alcoholism, and fractured family ties. What started five decades ago will now be finished.
With sardonic humor and wrenching emotions, May skillfully shifts between the past and the present to pull together the fullness of their stories, ending with a spark of renewed hope. This novel will most certainly appeal to those of us who have watched the 1991 film "The Commitments" and heard "Mustang Sally" a hundred times. Same theme. Different decade. Don't wait. Check out the book now.