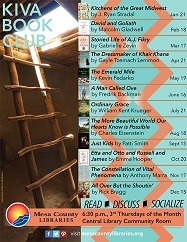 Join us for our next Kiva Bookclub, at 6:30 pm on Thursday, July 21st, in the Central Library Community Room, as we discuss Ordinary Grace by William Kent Krueger.
In Ordinary Grace, thirteen-year-old Frank Drum, a Methodist preacher's son, explores the darker side of what the book jacket describes as a "time of innocence and hope." During the summer of 1961 in New Bremen, Minnesota, Frank and his brother investigate several tragedies, including a death that threatens to tear apart their family; all set against the backdrop of an Upper Midwest boyhood. The Kirkus Review describes the novel as both a mystery and a kind of spiritual meditation:
"A respected mystery writer turns his attention to the biggest mystery of all: God. An award-winning author for his long-running Cork O' Connor series, Krueger aims higher and hits harder with a standalone novel that shares much with his other work…. 'the awful grace of God,' as it manifests itself within the novel, would try the faith of the most devout believer. Yet, ultimately, the world of this novel is one of redemptive grace and mercy, as well as unidentified corpses and unexplainable tragedy. A novel that transforms narrator and reader alike."
There is no registration required for this event. To find a copy of Ordinary Grace, search our catalog. See you there!